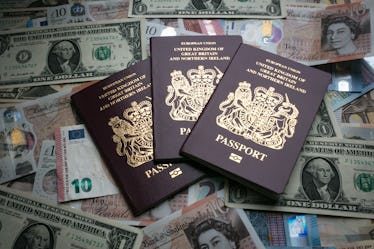 Here's Where To Get A Passport Before Booking Your Dream Vacation In Another Country
Matt Cardy/Getty Images News/Getty Images
Jet-setting across the globe is the fantasy of many. Visiting exotic locations and historic landmarks is likely somewhere on your bucket list. As with most good things in life, there is work that needs to be done before you get there. In this case, it means getting your passport. It's not that the process of getting your passport is overly difficult, but procrastinating actually getting it is so easy to do. So, first thing's first, find out where you can get a passport.
Unfortunately, if you're getting a passport for the first time, you need to apply for it in person (no online magic here). According to the U.S. State Department, there are quite a few places where you can go to get your passport, and it's really not too much of a hassle. This handy search page on the U.S. Department of State's website will give you a list of locations near you that accept passport applications, and they include post offices, public libraries, and other government offices. All you have to do is type in your zip code, and the website will populate a list of the nearest passport facilities. Easy enough, right?
OK, now that you know where to go, you have to figure out what you'll need to bring with you to get your passport. Luckily the State Department website is very helpful when it comes to helping you gather the necessary documents.
You'll need to complete a DS-11 form (if you're a first-time applicant), provide evidence of citizenship via a birth certificate or one of the other accepted forms — and you must also bring a photocopy of whatever citizenship document you plan to use. You'll also need to present some photo identification in the form of a valid driver's license or one of the other accepted identification forms. Bring a photocopy of of your I.D. as well.
Yes, this all sounds a little boring so far, but just think how not boring it will be when you're running by the Eiffel Tower during your morning jog through Paris or enjoying a pint of Guinness as you admire just how stunningly green the countryside of Ireland is. Yeah, I want to go to there, too — so let's finish up this passport process and GTFO.
Make sure you have your passport photo taken before you go to apply. You can find all the requirements for passport photos on the State Department website. Places like Walgreens or other pharmacies offer convenient passport photo services. Once you have your photo, just calculate your fees and head to the closest passport facility near you. Once again, you can easily find the facilities using this search tool on the State Department's website.
As for the money, a passport book will run you $110, a passport card (only valid for traveling to Canada, Mexico, the Caribbean, and Bermuda) is $30, and you can get both for $140. Every transaction also comes with a $25 execution fee.
That's it. Once you've gathered your completed DS-11 form, proof of citizenship, photo I.D., passport photo, and payment, you can submit your passport application in-person. The normal wait time for receiving your passport is four to six weeks, but you can have it expedited for two to three weeks for an additional $60 fee.
I know, applying for your passport won't be the most glamorous part of your college reunion trip to Europe, but it is the most necessary. Also, you may soon need your passport just to travel within the U.S., so it's worth your while to get it done now. Once you get your passport in hand, you can say "bon voyage" to boring paperwork.
Check out the entire Gen Why series and other videos on Facebook and the Bustle app across Apple TV, Roku, and Amazon Fire TV.