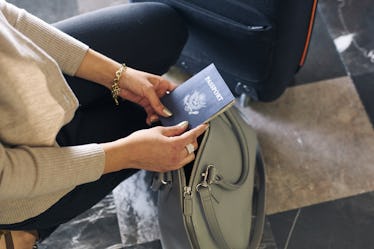 You'll Need A Passport For Domestic U.S. Flights In 2018 If You're Flying From These States
Travel ID laws are changing in the U.S., everyone. Even if you have a state-issued driver's license or ID, it might not count as a "real ID" when flying across state lines come Jan. 22, 2018. Don't you just love when TSA rules change? Before you start your panicked Google search — something along the lines of "Do you need a passport for U.S. domestic flights?" — here's everything you need to know about the pending ID situation at certain airports. (Pro tip: You should probably just go ahead and renew your passport now if it's expired or will be soon.)
WTF is this new rule?
The changes are a direct result of the REAL ID Act, which was passed by Congress in 2005. Basically, the REAL ID Act established federal security standards for state-issued driver's licenses and IDs, meaning that if your state doesn't meet the minimum requirements, the TSA (or any other federal agency) can't accept it.
Which states are "non-compliant"?
Cosmopolitan reports nine U.S. states will require a passport for air travel as of Jan. 22, 2018. They are: Kentucky, Maine, Minnesota, Missouri, Montana, Oklahoma, Pennsylvania, South Carolina, and Washington.
However, according to the U.S. Department of Homeland Security's REAL ID map — which you can use to check your state's status at anytime — several more states should be included on this list. In addition to the nine aforementioned states, California, Idaho, Illinois, Louisiana, Massachusetts, Oregon, Michigan, New Jersey, New Hampshire, New York, North Dakota, and Rhode Island were all highlighted in blue, indicating their status is "under review." These states were likely given an extension on the ID changes that expired on Oct. 10, 2017.
A note above the U.S. Department of Homeland Security's map provides some clarity regarding the large number of "under review" states. It reads,
DHS is currently reviewing extension requests from states with extensions that expired on October 10, 2017. DHS will update this page as these reviews are completed and new extensions are granted. In the meantime there will be no change in enforcement status for these states. States will have a grace period until January 22, 2018, meaning that Federal agencies (including TSA) will continue to accept driver's license and identification cards issued by these states in accordance with each agency's policies.
To clarify, if by Jan. 22, 2018, your state is still listed as "under review," you will still be able to use your state-issued ID for domestic travel. If it is listed as "non-compliant", you will need a passport to board both international and domestic flights. (As of Oct. 17, 2017, only one state — Virginia — was highlighted in yellow, indicating it was granted an extension until Oct. 18, 2018.)
What if your state is compliant?
Well, aren't you lucky? This just means that you can continue to use your state-issued driver's license or ID for travel within the United States. If you're going abroad, you'll obviously need to pack your passport, though.
The rules aren't done changing yet, either.
All this talk of compliant and non-compliant states is confusing, but you should know this: Beginning Oct. 1, 2020, everyone will be required to show either a REAL ID-compliant driver's license, a state-issued ID, or another federally accepted form of identification. Here's a list of what else counts, straight from the TSA's Fact Sheet.
U.S. passport
U.S. passport card
DHS trusted traveler cards (Global Entry, NEXUS, SENTRI, FAST)
U.S. military ID (active duty or retired military and their dependents, and DoD civilians)
U.S. Merchant Mariner Credential
Permanent resident card
Border crossing card
DHS-designated enhanced driver's license
Airline or airport-issued ID (if issued under a TSA-approved security plan)
Federally recognized, tribal-issued photo ID
HSPD-12 PIV card
Foreign government-issued passport
Canadian provincial driver's license or Indian and Northern Affairs Canada card
Transportation worker identification credential
Immigration and Naturalization Service Employment Authorization Card (I-766)
Prepare yourselves now, jet-setters. Renew your passport and check your state's REAL ID status. You have three months to get all your paperwork in order for a seamless TSA experience in the new year — you know, if you don't count the barefoot walk across the nasty airport floors to get your full body scanned as a hiccup.