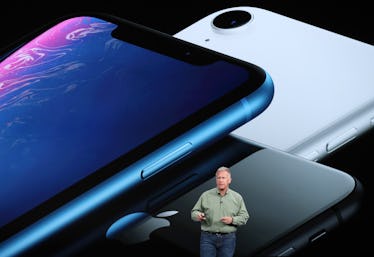 Here's Where You Can Go To Get Your Hands On The iPhone XR, But You'll Need To Wait
Justin Sullivan/Getty Images News/Getty Images
While there's been plenty of hype over all the updated new features on Apple's new iPhone XS and iPhone XS Max, I've been low-key obsessed with the iPhone XR ever since rumors first started swirling that Apple would be dropping a much more reasonably priced smartphone in the new lineup. While the iPhone XR doesn't offer all the features of last year's iPhone X, its relatively affordable price tag and sleek design makes it seem like a complete steal next to the $999 iPhone XS and $1,099 iPhone XS Max. However, if you're wondering where can I buy the iPhone XR, the answer is pretty simple. At the Apple store, or through your cell provider!
On Wednesday, Sept. 12, Apple announced that its newest generation of smartphones would be available for pre-order on Sept. 14, followed by an official release date on Sept. 21. Compared to last year's iPhone X, which was released two months after Apple's annual September gadget preview, the iPhone X's descendants will be available right away. However, the same can't be said for the iPhone XR. Following rumors on Monday, Sept. 10 that the lower budget iPhone would have a delayed release due to production issues, Apple confirmed this in their keynote. Instead of a September launch, Apple revealed that the iPhone XR will be available for pre-order on Oct. 19 with an official release date of Oct. 26.
The 6.1-inch LCD iPhone, which is priced at $749, features aluminum instead of stainless steel edges as well as a single rear camera instead of the dual camera action users have come to know and love on the iPhone X. It also features inferior resolution and internal storage due to its thin 0.5 mm build and LCD screen as opposed to the 1 mm size and the OLED screen found on the more advanced models. However, many seem to think that it's a small price to pay for a phone that boasts many of the same features as the iPhone XS series at a much lower price point. For example, the device is powered by the same A12 SoC chip that will also be used in the iPhone XS models. Compared to the A11 chip that's inside 2017's iPhone X, the newer chip offers "20 to 30 percent performance gains" as well as improved battery efficiency. Plus, with a price tag coming in under the iPhone X, and $250 under the iPhone XS and $350 under the iPhone XS Max, it's a total steal.
Unfortunately, there are a few caveats surrounding when you can get your hands on this phone. It might be in short demand as Japanese website Macotakara previously revealed that there tends to be a pretty high failure rate with mass manufacturing Full Active LCD screens. For now, the iPhone XR is being shipped out in "limited quantities" with an official release date of Oct. 26, just in time for the holiday season. If you can't wait until then, I'd recommend checking out the iPhone XS and the iPhone XS Max, which are available starting Sept. 21 and offer a ton of cool updates to last year's model.