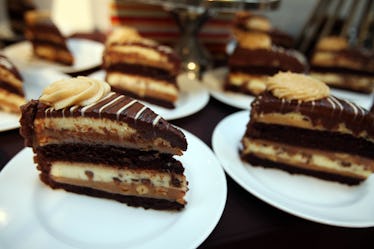 The Cheesecake Factory's Famous Brown Bread Is Coming To Stores & It's Carb Heaven
Tasos Katopodis/Getty Images Entertainment/Getty Images
Contrary to popular belief, the Cheesecake Factory has a lot more to offer than decadent desserts — specifically, their delicious Famous Brown Bread. If you're one of the people who visit the restaurant solely for the complimentary appetizer, you might have already heard the news. The yummy baked good is coming to grocery stores and has people asking, "where can I buy the Cheesecake Factory's Famous Brown Bread?"
OK, so it won't be free, but customers will soon have the option to purchase loaves of the brown bread in the bakery section of their local grocery stores like Winn Dixie and Harveys, according to PopSugar, or on the company's website. Yes, that means you won't have to keep harassing your waiter for extra bread because you'll have the option to buy it in stock for your home! The icing on the cheesecake? There are three variations that will be available for purchase: sandwich bread, mini baguettes and heat-and-serve dinner rolls, according to Food & Wine. (Cooking for myself is sounding a lot better already.)
The publication also noted that the bread lives up to the restaurant's version, saying, it "tastes exactly like at The Cheesecake Factory," so you'll never have to worry that you got a cheap dupe that tastes nothing like the real deal, regardless of the loaves being priced at just $3.49 to $4.49.
In addition to the variations, all of the breads are honey-wheat, which is reportedly a lot healthier than white breads. Although the recipes include sweeteners like molasses and brown sugar, according to the list of ingredients available on the website, they're still a pretty healthy option that you really can't go wrong with. Simply preheat your oven to 350 degrees, bake your loaf for five minutes, and relish in the carb-y deliciousness!
People are pretty excited over the upcoming releases.
People started freaking out on Twitter when they found out the baked goods were coming to grocery stores. If you don't think it's such a big deal, let Twitter convince you.
My sentiments exactly.
No, seriously. Though there all kinds of delicious entrees and chocolate-y desserts, the Famous Brown Bread is literally the best part of the meal. Some people just don't know what they're missing, I suppose.
The Cheesecake Factory often blesses us with at-home experiences of their yummy dishes.
The company has always given us opportunities to enjoy their best dishes right in our homes. In December 2017, the restaurant chain announced "The Day of 10,000 slices," to celebrate the holidays. They partnered up with DoorDash to deliver 10,000 slices of cheesecake to select areas with a certain coupon code.
The company's founder and CEO, David Overton, explained the gesture in a statement, saying:
We are so pleased to partner with DoorDash to surprise and delight 10,000 of our loyal fans and guests by delivering a complimentary cheesecake on December 6. We hope they can enjoy a slice of their favorite cheesecake to celebrate the season of giving.
The restaurant also gave us the option to bring The Cheesecake Factory experience to our dinner tables and recreate some of our favorite desserts. On Aug. 4, 2017, they released an At Home line of boxed dessert mixes, including brownies, cookies, cupcakes and cheesecakes— and if you're lucky, your local grocery store might sell the pre-made cakes in their bakery!
Whether you're making a club sandwich, a ham and cheese sandwich or even just want simple dinner rolls to accompany a savory dish, The Cheesecake Factory always has us coming back for more. Not to mention, these new breads are budget friendly, healthier than other choices and your guests will love them.
Dinner is served!