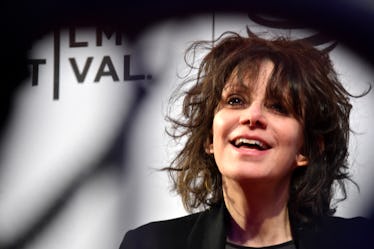 'Clueless' Writer Reveals Where Josh & Cher Are Now & It Will Give You All The Feels – EXCLUSIVE
Mike Coppola/Getty Images Entertainment/Getty Images
Legendary writer and director Amy Heckerling knows a thing or two about coming-of-age comedies. Chances are her work has had a profound cinematic effect on you and you quote words she penned on a regular basis. Heckerling directed 1982's Fast Times at Ridgemont High and wrote and directed 1995's Clueless, a bonafide classic of the genre that helped define a generation and even spawned a new vocabulary to describe the way we feel. But where would Cher and Josh from Clueless be today? We have a potential answer.
Amazon's charming and addictive Red Oaks hits the streaming service for its third and final season on Oct. 20 and Heckerling got behind the camera for two of the show's new episodes. We had the chance to chat with Amy about what to expect this season and even got some insight into where some unforgettable characters might have ended up.
When it came to Clueless, I couldn't resist asking where she saw our beloved Beverly Hills heroines today. "Maybe Cher and Dionne go into business together," she reveals. We'll take it.
Heckerling remarked that she's been asked about the relationship status of Josh (Paul Rudd) and Cher (Alicia Silverstone) now. Well, here's a possible interpretation:
They're in love. Then she goes to college and she goes out with a lot of different guys. And then they bump into each other years later and they're still part of the same... Mel's his stepfather they have the same family. And maybe she goes off somewhere for a while, traveling, a year abroad or something. And then comes back and realizes, you know, he's gone through a lot of relationships, she's gone through some. Then they realize nothing is ever as good and then they get together.
Phew. At first we thought she might break the collective hearts of Clueless fans everywhere, but we have to appreciate the realistic narrative. Hey, she's the writer. She would know. Heckerling went on,
I mean, I don't think at 16 she found the love of her life and then just stayed with it from then on. They had to experience different people and find out who they are through them and if it is right — and I like the two of them together — it would have to be later.
Heckerling is currently working on the musical version of Clueless. She wrote the book for the adaptation and it's starting developmental labs. But she also made time to bring her directing vision to Red Oaks.
The thoughtful comedy offers up a slice-of-'80s-life that will fulfill your nostalgic fix, while hitting your funny bone and your heart strings — though it still remains grounded in a relatable reality. Heckerling has lent her directing skills to the series' previous seasons, and it's no surprise that she captures the tone of the era and the emotions of young adulthood with tenderness and precision.
Red Oaks, which revolves around the summer shenanigans at a New Jersey country club in the mid-eighties, treads new ground as it heads into its last six chapters. Former employee David finds himself in New York, hoping to make a name for himself as a director through his first big city job.
Red Oaks has enlisted an impressive roster of directors in addition to Heckerling, including executive producer David Gordon Green (Pineapple Express, Snow Angels) and Andrew Fleming (Dick). Steven Soderbergh also serves as executive producer. Amy said she was first drawn to the project because it resonated with her. "You know, when I met with the people and [creators] Greg [Jacobs] and Joe [Gangemi], I saw the scripts and thought, 'well, I respond to this.' It's in the '80s, it's fun, and I loved who they had in the cast. It all seem like a nice fit," Heckerling explained. And the experience proved to be more than worth her while. "When I was doing it, I had such a great time. The producers and creators were so open to having ideas and being creative and the actors were all so gung-ho. Everybody was so nice and it's just so great to work on something with such wonderful people."
The series' upcoming episodes switch gears and head to New York a bit, outside the suburban bubble. Heckerling spoke about how the show has evolved, saying,
It started as this fun thing of young people working at this country club, with Craig [Roberts, who plays David] being the center of that world. But we follow him and his passion to New York and what was fun for me was to be able to work more in the city — that young person trying to break in. The first job type of deal. That all made sense to me, I liked that. I'm not a tennis pro ... I do like the idea of there's a fancy place where people have fun and there's young people that work there.
When I asked if David finally "grows up" this year, Heckerling explained, "Well, everybody always has a ways to go." Touche. She added, "He's finally found the confidence to admit that this is what he wants to do, to make steps towards it and also stand up for himself and be aware that it either will work or not work, but you gotta go for it."
Heckerling has obviously depicted the sensibility of characters coming-of-age expertly throughout her career. What does she think is imperative to capture when portraying the inner-workings of their minds? "You know, that sense of trying to figure out how things work. How to maneuver in the world and figure out who you are," she says. It appears Red Oaks' intrepid young David is certainly still figuring out who he is, but maybe he's inching closer to adult enlightenment.
Another enjoyable thing about Red Oaks is that it's set in the 1980s. "People are always saying about different eras, 'it was a simpler time.' No! I mean, World War I was not a simpler time. Just because they didn't have the technology we have, doesn't make it simple," Amy notes, regarding going back in time on screen.
A pioneer of the teen movie genre, Heckerling is aware of the difficulties of making those types of films today. "People are so much in social media. That doesn't translate I don't think as well to screen... as far as the dramatic real-life interpersonal stuff. But it became such a huge part of everybody's life."
Thank you for allowing us to sleep soundly, Amy. Knowing the fate of such an iconic movie couple is sure to bring teens of the '90s some peace.
Red Oaks Season 3 starts streaming on Amazon Oct. 20.