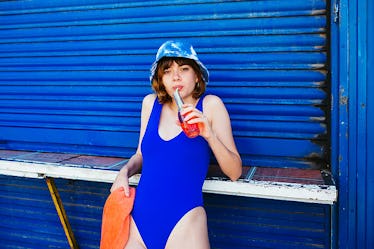 8 Accurate Thoughts Every Beach-Obsessed Person Has Leading Up To Their Vacay
Some people were simply mermaid to be one with the ocean. You sea, when you're obsessed with the beach, there's really no place you'd rather be. You plan all of your vacations around the surf and sand, and make sure your beach bag is packed with the best essentials. Anything tropical is on your travel bucket list, and you are constantly counting down to your next day spent splashing in the waves. With your summer plans on the horizon, you have plenty of beachy thoughts racing through your head.
It's no wonder why you love the beach so much. You could be taking a nap in the sand, reading a good book in a hammock, or swimming in the cool water. There's so much fun to be had that just one beach day is not enough for you. You could honestly spend an entire week in a tropical paradise, and still not get enough of the sun, surf, and sand.
Until that next beach getaway comes, you find yourself thinking these eight thoughts. The countdown is unbearable, but you know that as soon as you hit the water, all of your worries will wash away. That's what's so great about the beach, and you'll be sea-ing it so soon.