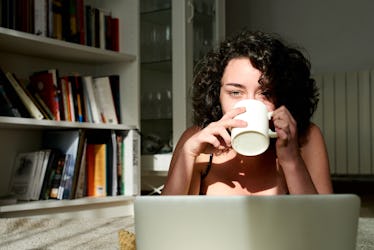 When You're A Morning Person, These 5 Things Truly Speak To You
Morning people of the world: I really do commend you. You are truly the brave among us. You've never really tried to be good at mornings, but it just comes so naturally to you. There's something about the warm sunshine peaking through the window, the peacefulness, and the promise of a new day ahead that just makes you so, so happy. Rising and shining is your forte. All of my morning people out there, you know the little morning secrets that'll start your day off on a great note. Truth be told, when you're a morning person, there are just some things you really relate to.
You wake up like the Energizer Bunny with a warm mug of coffee in hand, ready to totally slay your morning routine like the boss you are. If you look hard enough, you just might even be glowing — and I'm not talking about your highlighter. You're that level of Disney princess, in my opinion. It's a serious blessing to wake up with such a positive mindset, even if the rest of the world can't seem to get along with their alarm clocks, literally, ever.
This one's for you, morning people of the world. In celebration of all you can accomplish before the rest of the world is even awake, here are five things you all probably have in common.