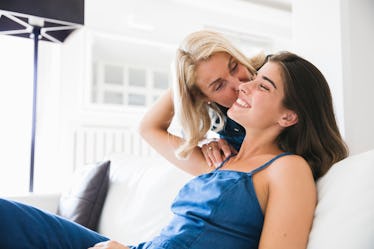 How Your 20s Is So Different When Your Mom Is Your Best Friend
Your 20s can seem like an endless storm of responsibilities and learning curves. If your mom is your main chick in your circle of friends, though, she acts as the calm during and after those mini storms that come with adulting. When your mom is your best friend in your 20s, she changes how you perceive this monumental decade of your life. She has been there, done that, and is ready to give you all of the essential pointers.
You learn what qualities make up an amazing friend, because of the loyalty and devotion your mama bear shows you on the regular. She has literally been there since day one, and she knows you better than anyone else in this world. If those aren't spot-on traits of a genuine best friend, I don't know what are.
In your 20s, you need a best friend who you can be open with about everything. They'll let you vent, give you crucial advice, and be there when you're in need of a glass of wine and some ice cream. Sure, your mom tended to your scraped knees as a kid, but now she's aiding so much more in your adult life by taking on the role of your bestie. Here's how your 20s is so different when your mom is the yin to your yang.