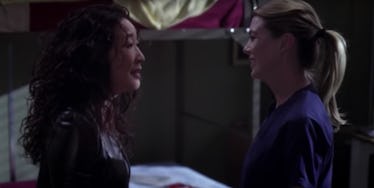 When Your Best Friend Is Like Meredith Grey, You Can Relate To These 8 Things
When it comes to TV best friendships, Meredith Grey and Cristina Yang's bond from Grey's Anatomy is iconic. They should be at the top of every BFF list. It was Meredith and Cristina who taught us what it really meant to be someone's "person." Watching them every week showed us the definition of friendship goals. (And let's be honest: We all bawled our eyes out when Cristina left the show.) If you consider yourself to be the Cristina in your best friendship, you know that when your best friend is like Meredith Grey, you have a bestie for life.
Lucky for you, you've found the PB to your J, and they are everything you need. As perfect as Meredith was for Cristina, she has also always been a great friend to many of the doctors at Grey Sloan Memorial Hospital, including Alex Karev and Maggie Pierce (her half-sister). That's what makes her an iconic TV character you keep rooting for season after season.
Most people have to tune in to new episodes or re-watch the series to get their fill of Meredith, but luckily for you, she's so much more than just a TV character. You have a real-life bestie who is just like Meredith, and proves their awesomeness by having these eight things in common with Dr. Meredith Grey.