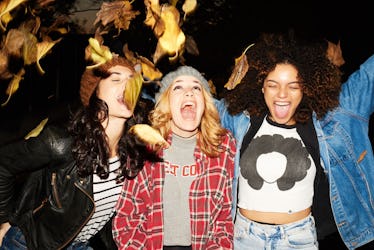 If You & Your Bestie Turn Basic In The Fall, You Can Relate To These 10 Things
I will be the first to admit that fall makes my inner (or outer) basic girl sing with pride. From flannels and oversized sweaters, to corn mazes and jumping into huge piles of orangey-red leaves, there's nothing that I don't love about this beautiful season. And when my friends and I get together, well, let's just say that we celebrate with a mini party of basic-ness. If you and your friends are basic in the fall, you know that these 10 things are all too true.
Let's be honest for a sec, though: Even though the word "basic" might get a bad rap at times, I don't hate it when people put the label on me. I will 100 percent own up to loving a good fall-scented candle, picking up a pumpkin for a photo (and never actually carving it), and living in leggings for a good six months. So judge me if you want, but I love fall and I thoroughly enjoy a fun basic moment as much as the next girl. (Don't believe me? Most of the photos in this post are of me.)
Whether you're looking for ways to up your basic-ness, or just need a friendly reminder of basic things to do in the fall, here's this season's go-to guide for all things basic for you and your friends to dive into (like a giant pile of leaves).