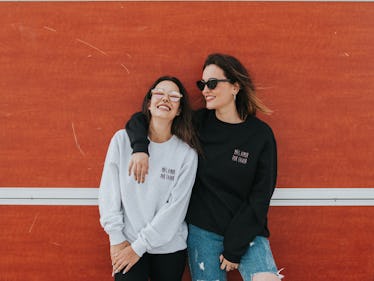 When You & Your Cousin Look Like Sisters, You Know These 7 Things To Be True
When you're super close to your cousin, she may start to feel more like a sister to you. Sure, you don't share the exact same DNA, but the bond between you two makes you besties for life. It's only when you and your cousin look like sisters, that your relationship goes from BFFs to the truest kind of soul sisters. There's always going to be a little family resemblance between cousins, but when you and your cousin get mistaken for siblings all the time, that's when you can really start having fun.
There's a good possibility you share the same taste in clothes, friends, activities, and dating style. This makes your bond all the more special. You get one another on another level. You can really be inspired by one another, because let's face it: If a cool outfit she bought looks great on her, you can borrow it knowing it'll look really awesome on you, too.
You may even look more like your cousin than your actual siblings, which adds a bit of confusion when you're trying to introduce people to your family. Though, no matter how unusual it might be, you love how much you and your cousin look alike. That's why you know these seven things to be true about the special relationship you and your soul sister cousin share.