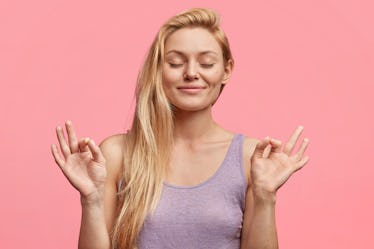 5 Mantras To Recite When You Know You're Going To See An Ex
Shutterstock
Running into your ex when you're least expecting can be bad enough. But the anticipation of knowing you'll have to see them, whether it's at a mutual friend's party you were both invited to or in a class you both registered for, is arguably more brutal. On the bright side, you're able to prepare yourself before seeing them face to face. And coming up with some positive affirmations can be an immensely beneficial part of your preparation process. The mantras to recite when you know you're going to see an ex should be equal parts self-validating, empowering, and reassuring.
If you're wondering WTF a mantra is, these self-soothing sayings are intended to help you shift your attitude and mindset. Which mantras you choose to adopt will depend largely on how your breakup went down, and where you stand with your ex now. The phrase that resonates most deeply with you will differ if you just split a month ago and you still have lingering feelings for your ex, versus if you parted ways years back and have already moved on with new people.
But regardless of your specific circumstances, these mantras can all apply. If you're prepping yourself to see your ex, try repeating these phrases in the days leading up to the dreaded encounter to replace your panic with feelings of strength and sheer serenity.