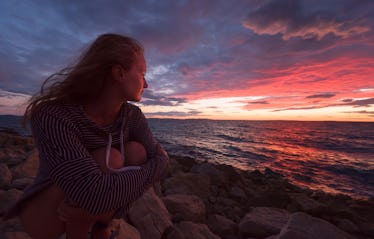 5 Mantras To Recite When Your Ex Gets Engaged, Because It Can Be Tough To See
Picture this: You survived the breakup. Your ex moved on, and it hurt when you found out they were dating again, but you persevered — until you learn your ex is engaged. Welp, they went and popped the question... to someone else. It's brutal, but guess what? In some ways, that bad news is the best thing that could have happened, because it means it's really over and it's time to move on for real. That can be easier said than done, but having mantras to recite when your ex gets engaged can really come in handy. If you've never used a mantra, then the idea may sound silly. After all, what could repeating a phrase really do to help you feel better about heartbreak? In reality, mantras are really powerful, because they can help you take back control of your own inner narrative. With repetition, they can help you to believe in what you're saying — and belief is everything.
Mantras can assist in combating negative self-talk and help you be kinder to yourself, which, in the aftermath of discovering your ex is engaged, might be super helpful. Setting aside a little time each day to be present and repeat helpful phrases to yourself can truly do wonders. But also, when the negative thoughts come — and they might — mantras can be held at the ready to help drown them out. So, to get you started, here are some mantras to keep mentally handy when your ex is getting hitched, and it's getting to you.