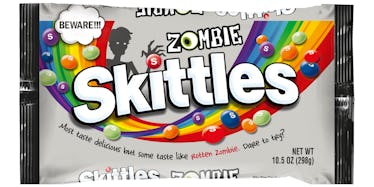 Zombie Skittles Are Coming, But There's A Spooky Surprise Inside Every Bag
Mars Wrigley Confectionery
Halloween is almost here and that means one thing: Candy galore. Just in time for the Oct. 31 holiday, Skittles is announcing a new line up of bite-sized candies called Zombie Skittles. Sadly, you won't be able to buy the new fruit candies in time for Halloween. (I know, it really is a bummer.) So, when will Zombie Skittles be available? Unfortunately, you will be waiting a while, but Zombie Skittles sound like they are going to be worth the wait.
Don't hold your breath because Zombie Skittles won't be hitting store shelves any time soon. That said, Zombie Skittles will be here in time for Halloween 2019, according to Skittles' parent company Mars Wrigley Confectionery. I know, Halloween is just weeks away, but you'll just have to wait until next year to get your hands on these treats.
Zombie Skittles aren't your average bag of Skittles, either. Let me dissect the fruity flavors that are inside of each bag for you. For starters, inside of each pack of Zombie Skittles is a hidden Rotten Zombie flavor. I don't exactly know what that means, but I'm intrigued and I'll probably eat it when the time comes. I've never met a Skittle I didn't like, so why would the mysterious Zombie Skittle be any different for me? I'm here for it. As far as what else is in the bag, here are the other Zombie Skittles flavors:
Petrifying Citrus Punch
Mummified Melon
Boogeyman Blackberry
Chilling Black Cherry
Blood Red Berry
As you can see, Zombie Skittles are a spooky twist on the regular bag of flavors. According to Mars Wrigley Confectionery, Zombie Skittles will be sold in three different sizes. The Share Size bag will be sold for $1.89, the Lay Down Bag for $2.49, and the Fun Size Bag for $2.99. You can find Zombie Skittles at most grocery stores and other food retailers nationwide starting in October 2019. These are perfect for passing out to trick-or-treaters next year or keeping stash in your Halloween candy dish. Selfishly, I'll be hoarding Zombie Skittles all to myself.
Skittles are also debuting another new product next year. Skittles Darkside will be available sometime in 2019 and are "inspired by the other side of the rainbow," according to Mars Wrigley Confectionery. Once again, I'm intrigued. These two new Skittles flavors may just be the best news I've heard all year. So what makes up a bag of Skittles Darkside? Here's what you'll find. The flavors include Dark Berry, Black Cherry, Forbidden Fruit, Blood Orange, and Midnight Lime.
According to Mars Wrigley Confectionery, more than 200 million Skittles are produced on a daily basis. Yep, let that sink in for a few minutes. With such crazy high production numbers, it is no wonder that Skittles Zombies will take a full year to hit store shelves.
Skittles are hands-down one of my favorite candies. Whenever I travel, I always pick up a bag of Skittles to throw in my purse and snack on while I'm flying. My personal favorite is a bag of Skittles Sour. But these new Zombie Skittle flavors have me wondering if this flavor will reign supreme for me.