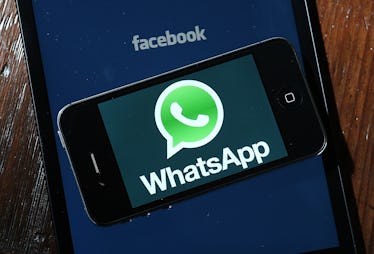 WhatsApp Will Stop Working On These Phones After NYE, So Have A Backup Plan
Justin Sullivan/Getty Images News/Getty Images
In 2017, we've seen some serious technological advances when it comes to our smartphones. Between the release of the iPhone X (#facialrecognition) and the Google Pixel 2, it's been a big year for tech enthusiasts. It seems like every new phone has features we couldn't have even dreamed about when smartphones first hit the market. However, with all of these changes in technology, many tech companies are reevaluating their products and how they interact with the the technology available today. On Dec. 28, the popular messaging app WhatsApp announced that it is taking a big step and discontinuing its service on a number of devices and operating systems. So, when will WhatsApp stop working?
According to a recently updated blog post, WhatsApp will no longer offer its services on Blackberry OS, BlackBerry 10, or the Windows 8 phone (and older models) after Dec. 31, 2017. In addition, the Nokia S40 will say goodbye to the app on Dec. 31, 2018, and Android versions 2.3.7 and older will bid it farewell on Feb. 1, 2020. That's good news for users on the latter two devices and systems, who will have some extra time to figure out how to continue using the app. WhatsApp discontinued service on the Nokia Symbian S60 on June 30, 2017.
In the post, the company acknowledges the role that these phones have played in its development and growth. However, because the phones are outdated at this point, they do not support the changes and improvements that WhatsApp is planning to make in the next seven years.
The company indicated in an earlier version of the blog post that it would pull support from the iPhone 3GS as well. However, the iPhone 3GS is not listed in the updated blog post among the other devices that WhatsApp will pull support from in the near and distant future. Despite this, Mac Rumors reports that WhatsApp will stop working on iPhone 3GS and older models from Jan. 1, 2018. Mac Rumors also suggests it'll be pulled from iPhones unning on 6 and earlier.
In addition to anecdotal evidence that technology has changed, WhatsApp also notes the statistical evidence that it's time for them to focus their efforts on developing the app for newer products. In the blog post, they wrote, "When we started WhatsApp in 2009, people's use of mobile devices looked very different from today." The blog post continues, and says,
About 70 percent of smartphones sold at the time had operating systems offered by BlackBerry and Nokia. Mobile operating systems offered by Google, Apple and Microsoft – which account for 99.5 percent of sales today – were on less than 25 percent of mobile devices sold at the time.
The company also warns that because it will no longer be developing its software for these devices and systems, certain features of the app may stop working at any time for users who do not upgrade.
Thankfully, the discontinuation is only expected to affect a small amount of users. Mac Rumors notes that less than 0.04 percent of iPhone users are currently using iOS 6. Those who will be affected are encouraged to update either their software or their devices in order to continue using the app.
WhatsApp's desire to continue growing and improving its service should come as no surprise. In 2014, the company was purchased by Facebook for $19 billion. As Facebook has improved its messaging capabilities — both on its own platform and on Instagram — it makes sense that they would want to continue improving WhatsApp, whose function has always been, and continues to be, to chat with others.
Check out the entire Gen Why series and other videos on Facebook and the Bustle app across Apple TV, Roku, and Amazon Fire TV.