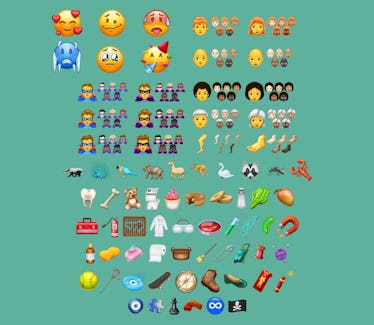 This Is When Android Users Might Be Able To Use The New Emojis For Good
Smartphone users around the world are anxiously waiting for developers to make the latest batch of emojis from the Unicode 11.0 update available on their phones. Select Android users are already able to use the new emojis (thanks to Google's Beta Program), but not everyone is privy to that. There are a few guesses floating around out there about the official timeline. This begs the question: When will Unicode 11.0 emojis be available on Android? The official update is coming, but you are going to have to wait.
A Google spokesperson tells Elite Daily that the official Unicode 11.0 release is coming to Android devices later this summer, and you can even keep track of their progress. That's not too far from the timeline provided by Emojipedia, which said that Android users might be able to officially enjoy the new 157 emojis sometime between September and December. Of course, Emojipedia's prediction is just a guess (an educated one, at that). Emojipedia used previous data from Google to come up with the possible early fall to winter release date.
Many times, emoji updates are wrapped into a larger, more comprehensive update for your phone, rather than a one-off of just emojis. A massive software update takes time for developers to build, so suffice to say, they are probably working on it now. Unfortunately for Android users, developers probably won't be speeding up the process just to get you your emojis any faster. This kind of stuff takes time.
I'm going to take the attitude of glass half-full here, because the first six months of 2018 have just about flown by. I'm not quite sure how we got to mid-June so quickly, but the calendar doesn't lie. Look at it this way: 2018 is almost halfway over. If the Unicode 11.0 emoji update comes to Google devices in the beginning of the estimated window, Android users are only a hop, skip, and a jump away from being able to send the redhead, cupcake, skateboard, and lab coat just to name a few. What's a couple short months in the grand scheme of it all? Nothing. The release seems to be trending that way.
While we're here, I'm going to play devil's advocate for a minute. If Google opts to release a software update closer to the holiday season, well, that's still not too far off either. Remember, put a little perspective around time and you'll find that it, when you look back on the first half of 2018, you are going to be asking yourself where it all went.
While incorporation of Unicode 11.0 is still potentially months away, you may be able to get in on the fun in the interim. Google device users can sign up for Android's Beta release program to start using the new emojis now. However, only certain Android phones are eligible to participate in the pilot program. Once Google has secured user feedback from the beta test, they will incorporate it into their final emoji release later this year.
Twitter and Facebook will likely be amongst the first to release the Unicode 11.0 emojis to users, according to Emojipedia. Simply put, it is much easier for them to do, and they can do it at any time.
The addition of 157 emojis, released on Tuesday, June 5, brings the official overall number of available emojis to 2,823. It won't be too long before Android users are able to Snapchat, tweet, and text a bagel, lobster, superheroes and more to anyone in their rolodex later this summer. Just hang tight for a little bit longer. New emojis are coming to a phone near you in the very near future.