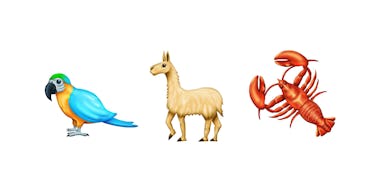 There Might Be New Emojis For Your iPhone This Fall, & They Are So Worth The Wait
Emojis make it so easy to keep in touch with all of your besties. If you're in a rush but don't want to forget to reply, you can quickly tap any of the smiley emojis. Don't want to send your millionth "kk" reply? Use a thumbs up emoji to save you from messaging monotony. Currently, there are plenty of emojis available to keep your messages interesting, but there's always room for more, right? The good news is that there are new emojis out, but the release timetable means that you might have to wait little while before you see them. So, when will Unicode 11.0 emojis be available for iPhone?
According to Emojipedia, the 157 new emojis in Unicode 11.0 arrived on Tuesday, June 5, 2018. The final emoji list for this release was announced back in February, but Tuesday marked the first day that companies could start supporting these new emojis. With that, Emojipedia also released a timetable prediction of when certain companies would make the new emojis available to their respective users.
For iPhone users, Emojipedia predicts Apple will begin to support the Unicode 11.0 emojis sometime between September and December 2018, so you can likely expect to see the likes of the new parrot, lobster, and llama emojis on your iPhone toward the end of the year.
I'm no poster child for exhibiting patience, so my iPhone-using self is slightly bummed that all the new emoji goodness will have to wait until September, but Emojipedia also shared that some companies might make the new emojis available sooner than the fall (!!!).
All of Emojipedia's predictions are based on historical trends, and "no major vendor" had released the new Unicode 11.0 emojis as of Tuesday, June 5. OK, so when can you start freaking using these new emojis?! Well, Emojipedia predicts Twitter, EmojiOne, Facebook, and Microsoft will support the Unicode 11.0 emojis this sometime this summer between June and August 2018.
If you're an Apple user who is dying to use some of the 157 new emojis, then it looks like you probably have some options to get on it ASAP. If, for example, you're a sports junkie who stays super active in the summer, you can use the new lacrosse, skateboarding, and softball emojis on Twitter and Facebook once they're likely released this summer.
The Unicode 11.0 emojis also offer more variety when it comes to hair color and texture. This release is unique in that it is the first time there are emoji components available for hair color. The new emoji hair options are available for men and women emojis of all skin tones, and the new components include: red hair, curly hair, white hair, and baldness. If you previously only counted on your Bitmoji to help you represent your curly red hair, then this Unicode 11.0 emoji update is your time to shine.
If you're more of a classic smiley-faced emoji user, there are plenty of new emojis to keep you happy, too. With the new hot face, cold face, and partying face emojis, you can let your besties know exactly how you feel. The expressive partying face emoji can show just how pumped you are about the night's plans, and you can save your texting energy by sending a fitting hot face emoji when you're sweating it out on beach day.
Stuck in your overly air-conditioned office during the dog days of summer? Send the cold face emoji to commiserate with your work BFF as you both "suffer" from arctic office syndrome.
Remember, Apple users can expect to see these new emojis toward the end of the year — between September and December 2018 — when Apple usually ties emoji releases to an iOS update. Per Emojipedia, Android users can get in on the new emoji fun in January 2019 when Samsung will likely support the Unicode 11.0 emojis.
Until then, though, you can keep an eye out this summer for the Twitter and Facebook support of the Unicode 11.0 emojis. *Sends party face emoji.*