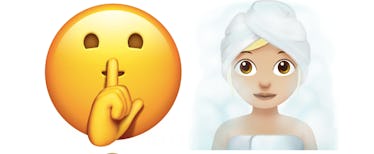 The New Emojis You've Been Waiting For Are Finally Coming, Here's How To Get Them
For the past few weeks, it seems like the only thing on everyone's mind has been how soon Apple will be releasing new products and new emojis. We finally know about the iPhone 8, iPhone 8 Plus, and iPhone X — but we've been endlessly teased about the new emojis... until today. Believe it or not, the new emojis will be available with the iOS 11.1 update, so all of your excitement hasn't been in vein.
The next obvious question is, "Well, when the new iOS emojis will be available?" Lucky for you, I have a vague answer. Apparently, there is still no exact date for when the new emojis will come out, but we do know they will be with us soon.
In an email to Elite Daily, Apple said "hundreds" of new emojis "will be in next week's developer and public beta seeds and debut in upcoming software updates for iOS, watchOS and macOS."
What does this all mean? Well, basically, this means that the new emojis will be available for all iOS users once iOS 11.1 is available for download. However, that date is still TBD. But if you can't wait until the update is available, then you can sign up to become a beta tester in the Apple Beta Software Program.
OK, now that we know the new emojis are coming soon, I can share the even bigger news. There are so many new emojis coming with the iOS 11.1 update that include a Chinese takeout container, broccoli, a spa girl, a wizard, and more. Get a closer look at a few of them below.
OMG, how cute are these?! I can already see myself using and abusing the spa girl emoji because I'd like to think of myself as a relaxed person, but I digress.
Aside from the cute emojis above, iOS 11.1 users can expect to see a new dinosaur, a gender-neutral person, a fashionable little scarf, a mermaid, a fairy, an orange heart, and a rock-climbing person.
Earlier this year, we were under the impression that the new emojis for iOS would be available along with iOS 11. At this time, we were presented with a limited amount of emojis that were still very exciting. But users couldn't wait to get their hands on mythical emojis like zombies, genies, wizards. Inclusive emojis with various skin tones will also be available in male or female variations. Health conscious emojis (like ones doing yoga) and animal emojis like zebras, crickets, and a T-rex will be available, too.
Foodies out there can enjoy new food emojis including a dumpling, pie, pretzel and a steak. There are also many new "people" emojis coming at you including a breastfeeding woman, a bearded man, a woman with a headscarf, and a child.
All of the auburn haired beauties out there can expect to see a red head emoji coming their way, as soon as 2018.
Until we get all of the new emojis we were promised, we can enjoy using the new features on iOS 11. Those who had enough space on their devices to download the new update can enjoy using:
"Siri Translator" which can translate up to five languages including Spanish, French, and German.
"Type to Siri" which lets users type messages to Siri instead of saying it out loud.
And a customizable Control Center which allows users to edit and display the widgets that they prefer.
IDK about you guys, but I don't mind waiting a little longer to play with the new emojis. I just hope they get here before the holidays!
Check out the entire Gen Why series and other videos on Facebook and the Bustle app across Apple TV, Roku, and Amazon Fire TV.