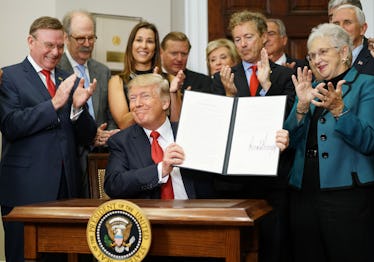 Trump's Health Care Plan Won't Start Anytime Soon, But it Could Still Spell Trouble
MANDEL NGAN/AFP/Getty Images
After Republicans in Congress tried and failed to repeal and replace the Affordable Care Act (ACA) better known as Obamacare, the White House has moved to erode the ACA on its own. President Donald Trump issued an executive order on Thursday, Oct. 12 that could loosen requirements on association health plans and make it easier to purchase short-term health insurance. Given that the order could spell trouble for Obamacare, when will Trump's health care plan take effect?
Given that the executive order doesn't present specifics, it will actually be months before it's clear how it'll affect Obamacare. Still, some experts fear that it will hurt the ACA by driving young and healthy individuals out of the health care exchanges.
The order is two-fold. It directs the Labor Department to "study" how to make buying insurance easier for small businesses through association health plans, according to CNN. And, it could make it easier for individuals to buy short-term plans for themselves, which can exclude mental health coverage and pre-existing conditions. This is where the order could hypothetically undermine the Affordable Care Act, by leading young, healthy people to leave the Obamacare exchanges for these plans.
For seven years, the GOP has pledged to repeal and replace President Barack Obama's signature health legislation. The latest effort to do so under the budget reconciliation process, which would have required just 50 Senate votes to pass, failed in late September. But through the duration of the 2016 campaign, Trump promised to do away with Obamacare, and on Thursday he did his best to bypass Congress.
At the signing of the executive order, he said that the plan would change healthcare for "millions." "[It] should have been done a long time ago, and could have been done a long time ago," Trump said.
Here's what you need to know.
When Does Trump's Plan Start?
While Obamacare enrollees may be panicking about the executive order, it actually doesn't go into effect for a while, according to NBC News. In fact, given that the plan doesn't have specifics at the moment, federal agencies will be tasked with assessing the new regulations in it, meaning it could take some time.
CNN reported that a senior official said it'll be at least six months or more before anything changes.
What Happens To Health Plans?
According to NBC News, an association health plan permits a small group of businesses or people to join together to create an association, and then negotiate a plan for their employees. These plans are supported by trade groups.
Currently, under Obamacare, such plans have to meet certain criteria. Under Trump's regulations, they would not be subject to state regulations, which would mean that they might be able to skip providing certain minimums, like prescription drug and maternity care. "Healthier consumers will likely be able to enroll in plans with lower insurance rates, while more medically complex consumers may be subject to significant rate increases," Dave Dillon, a fellow at the Society of Actuaries, told NBC News reporter Benjy Sarlin.
I'm Young And Healthy, So What?
One of the fears about Trump's executive order is that it would mean that businesses with younger people with fewer health needs would go for a skimpier, cheaper plan, or that these individuals would choose short-term plans.
Under the ACA, individuals are limited to buying such plans for a period of 90 days, and still have to pay the penalty fee for not having insurance, according to NBC News. Trump's order could lengthen these plans and do away with the fee, perhaps making them more appealing and easier to stick with long term. In turn, that means that the Obamacare exchanges would have a sicker group of people, and premiums would go up.
You might be young and healthy today, but these plans sometimes exclude benefits like mental health care and prescriptions. And longterm, there might not be an Obamacare market to speak of.
So, Is This The End Of Obamacare?
It's hard to say. At this point, it's unclear what will happen to the Affordable Care Act as a result of Trump's executive order, and it could be awhile before it's known. In the meantime, though, open enrollment for the ACA begins on November 1st — so you can still get Obamacare.
Still, the Trump administration is already making it harder to enroll, by funding less advertising, shutting down the website and cutting funding to groups that help enroll individuals, according to The Washington Post.
While it might seem appealing — and better for your wallet — to pay less and go without certain benefits, it never hurts to remember that being young and healthy is a temporary condition. You might be young now, but one day you could need a lot more coverage. And it could cost you.