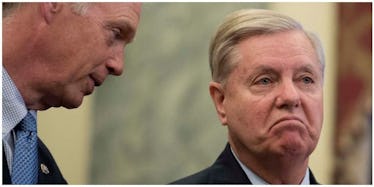 Republicans Are Trying To Repeal Obamacare — Again — So Time To Call Your Senators
JIM WATSON/AFP/Getty Images
On Wednesday, Sept. 13, a group of four Republican senators announced another new Obamacare repeal bill. Again. After the Senate failed to replace Obamacare and subsequently failed to achieve a skinny repeal in July, it looked like that was it for GOP hopes of repealing Obamacare, officially known as the Affordable Care Act (ACA). And yet, Senators Lindsey Graham (SC), Bill Cassidy (LA), Dean Heller (NV), and Ron Johnson (WI) have come up with what they consider a last-ditch effort -- and the GOP's best hope -- to repeal Obamacare.
Politico reported that the four senators held a press conference announcing the legislation. Senator Graham took to the podium and said,
If you believe repealing and replacing Obamacare is a good idea, this is your best and only chance to make it happen. Because everything else has failed, except this approach, which will work if we get behind it.
The window for passing this repeal is incredibly narrow: Graham, et. al., only have 17 days to fast-track the legislation with a 51-vote majority. After the Sept. 30 deadline for reconciliation, any attempt to pass a repeal will be vulnerable to filibuster, and will therefore need 60 votes to pass.
Given the dramatic late-night vote back in July that saw Senate Majority Leader Mitch McConnell's skinny repeal narrowly defeated, the odds of completely rewriting government healthcare in just over two weeks is unlikely, even with a 51-vote majority.
The Senate's recently failed repeal and replace bill, the Better Care Reconciliation Act (BCRA), was almost universally loathed, with only 17 percent approval from Americans. And this proposal is not likely to be any more popular, given the cuts being suggested.
For one thing, the bill, H.R. 1628, would rely on block grants.
Instead of providing Obamacare's tax credits, cost-sharing payments (which President Donald Trump threatened to stop paying), and Medicaid expansion, the federal government would provide block grants to states. The bill would also repeal individual and employer insurance mandates and a medical device tax. This would, according to the senators, allow states to "create their own health care systems" -- but in reality, it would likely harm states that rely on cost-sharing and other tax credits to offset high insurance costs.
The bill would eliminate funding that allows some of the country's most vulnerable populations to be covered, including Medicaid expansions. In late June, protesters with ADAPT, a nonprofit advocacy group for disabled individuals, protested the deep cuts to Medicaid in the BCRA. Photos of protesters being dragged from their wheelchairs while shouting, "No cuts to Medicaid" made the rounds on social media and traditional media and shocked the country. It is likely that they would also protest this bill.
Additionally, the Center on Budget and Policy Priorities released an analysis of what they're calling the Cassidy-Graham ACA Repeal, and the results would be disastrous for many Americans. If this bill passed, it would lead to the collapse of the individual market, the inability of states to expand coverage, and loss of coverage for millions of Americans.
The timing is of the announcement is particularly notable.
The bill's announcement comes on the same day that Sen. Bernie Sanders announced his Medicare For All bill. Sanders' plan would essentially create a single-payer system which would guarantee insurance for the estimated 28 million Americans without insurance, and make insurance less complicated and less expensive, according to CBS News. 12 other senators have signed onto Sanders' bill.
So, Graham knows this is likely the last chance the GOP has to repeal the ACA. During the press conference, he said,
If you want a single payer health care system, this is your worst nightmare. Bernie, this ends your dream of a single-payer health care system for America. So we need people on board now to stop what I think is inevitable if we fail -- which is single-payer health care for all, which is the end of quality, and the end of a sustainable federal budget.
But according to the Congressional Budget Office, several of the proposals in this bill would actually increase the federal deficit, including the proposed elimination of cost-sharing payments. CBO predicts that eliminating cost-sharing would increase the federal deficit by $194 billion by 2026.
The chances of a complete overhaul of the healthcare system in 17 days are very slim, but it's still worth calling your senators if you don't want to see Obamacare dismantled. July's skinny repeal only failed by one vote, so it's essential that senators hear every constituent who has an opinion. Elite Daily put together a handy guide to calling your senators if you're not sure what to do, who to call, or what to say.