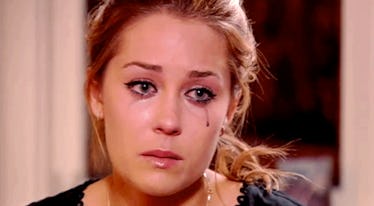 'The Hills: New Beginnings' Is Coming To MTV Much Sooner Than You Think
MTV
Almost a decade after its iconic, set-revealing series finale, The Hills is set to make a major comeback on MTV. During the MTV Video Music Awards, the network dropped some news that will make everyone who misses seeing Lauren Conrad, Heidi Montag, Spencer Pratt, Brody Jenner, Audrina Patridge, Justin Bobby, and the rest of the gang fight and cry on television. The Hills is coming back! But of course, the big question now is when will The Hills: New Beginnings revival air? Let's go over everything we know about MTV's newly announced The Hills: New Beginnings revival docuseries.
Elite Daily reached out to MTV to confirm which returning cast members will join the revival and what the exact air date is, but has not heard back by the time of publication.
Without a doubt the most exciting moment at the 2018 MTV Video Music Awards on Monday night for every millennial who grew up watching Lauren Conrad turn down a trip to Paris and Spencer Pratt become obsessed with crystals was when the new revival was announced.
Of course, fans should not expect The Hills revival to have the same exact feel as the original series. The Hills followed the messy, wayward lives of a group of 20-somethings trying to find their way in Los Angeles, but of course, a revival series will instead have to focus on the families and careers that the now 30-something cast members have created for themselves in the eight years since the show ended. Now, pretty much all of the show's main cast is happily married and most have kids of their own.
A good series to look at for some idea of what this The Hills revival may feel like is Jersey Shore, another landmark reality series that MTV recently revived. Jersey Shore's initial run was pretty much exclusively about getting drunk and hooking up, but after most of the cast got married and had kids after the 2013 finale, Jersey Shore Family Vacation focused much more on relationship drama and in-fighting among the cast, as well as coming to terms with the price of their reality TV fame.
Although The Hills wrapped on its final season in 2010, much of the show's cast have appeared in other reality TV shows in recent years. Whitney Port got her own spinoff The City, Stephanie Pratt has become a big name in the U.K. thanks to the British reality show Made in Chelsea, Brody Jenner made a number of appearances on his half-siblings' series Keeping Up With the Kardashians, and Spencer Pratt and Heidi Montag have competed on several reality competition shows like Celebrity Big Brother UK and I'm a Celebrity... Get Me Out of Here. Kristin Cavallari also has her own reality show currently airing on E! called Very Cavallari.
This The Hills reunion series has been rumored for quite some time. A couple months back, Kristin Cavallari revealed that she was planning to do a The Hills revival on E!, but was unable to get all the other cast members to make that network jump. It looks Cavallari's E! deal has now led to Very Cavallari, and MTV will be bringing back The Hills after all.