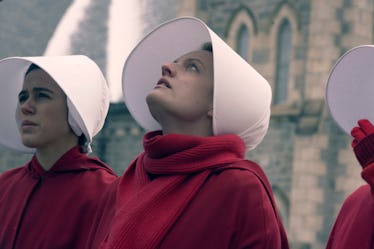 Here's What We Know About When 'The Handmaid's Tale' Season 4 Will Premiere
Hulu
The Handmaid's Tale Season 3 ended with another cliffhanger, as June failed to escape Gilead yet again. Unlike Season 2, her decision was not borne of pride and determination, but rather from necessity. She sacrificed herself as a distraction, to make sure the stolen children of Gilead made it to the waiting plane and flew across the border to safety in Canada. She nearly sacrificed her life in the process as well — but it's not over yet. Back in July 2019, Hulu announced it was prepping for another season to come. So, when will The Handmaid's Tale Season 4 premiere? Fans still have a long wait, as the new date will not be until 2021.
Hulu waited quite a while to announce the next season of the show has been greenlit. Seasons 2 and 3 were announced very soon after the premiere of Season 1. But then again, Season 3 began airing far later in the year as well, debuting in June 2019, whereas the first two seasons arrived in April 2017 and 2018, respectively. In January of 2020, executive producer Warren Littlefield confirmed The Handmaid's Tale Season 4 would debut in the fall of 2020, with production planned to begin filming in March.
The coronavirus pandemic brought all that to a screeching halt. Productions across the globe went on hiatus for health and safety reasons, and Hulu's shows were no exception. With restrictions now lifting in June, many series are hoping to find a way to come back in the fall, from NBC favorite This Is Us to Disney+'s The Falcon & The Winter Soldier. Fans of The Handmaid's Tale hoped Hulu's plan to bring the show back for fall might end up working out in its favor after all.
But, it seems Hulu has decided not to rush the return of its flagship series. Executives unveiled new plans for the next eighteen months during Hulu's NewFronts presentation, laying out plans for the rest of 2020 and into 2021 to advertisers and the media. According to The Hollywood Reporter, those plans include moving all its planned originals for the fall of 2020 down the calendar. Both Amy Schumer's Love, Beth, and Kate McKinnon's limited series The Dropout will be rescheduled, as will The Handmaid's Tale Season 4. All are now planned to be 2021 releases. Whether that means The Handmaid's Tale will once again have an April premiere, or fans will have to wait until the fall of 2021 for Season 4, remains to be seen.
Meanwhile, the first three seasons of The Handmaid's Tale are streaming on Hulu now.
If you think you're showing symptoms of coronavirus, which include fever, shortness of breath, and cough, call your doctor before going to get tested. If you're anxious about the virus's spread in your community, visit the CDC for up-to-date information and resources, or seek out mental health support. You can find all Elite Daily's coverage of coronavirus here.
This article was originally published on