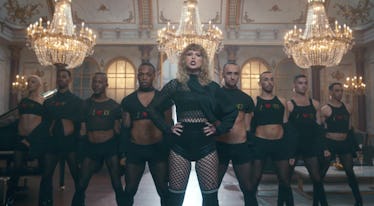 Taylor Swift Fans Have One Big Question After The Release Of 'Reputation'
Big Machine Records
In case you haven't heard, Taylor Swift is back with a brand new reputation... in more than one sense. Taylor announced her new album in August with the release of "Look What You Made Me Do" and, after waiting for two months (what has felt like two decades), we are finally able to enjoy Queen Swifty's latest release, Reputation, in all its glory. The album's 15 tracks balance classic Taylor's sound with a newer, edgier sound, and now that we've got the full album, the biggest question on every Swifty's mind is: When will Taylor Swift go on tour?
Of course, 1989's body is barely cold yet, and we're just starting to take in the full experience of Ms. Swift's new Reputation era, so — as of now — there is no official Reputation tour set in place. That being said, anyone who knows Tay Tay knows an official announcement can't be too far away. Whenever Swift has released an album in the past, a tour announcement has followed fairly soon after, so unless the "old" Taylor truly is dead, I think we can expect to get our coins ready to see her live.
Whether we'll get news of a Reputation world tour before or after the new year remains to be seen, but, rest assured, Swifties, it's coming.
Unsurprisingly, fans have been awaiting a tour announcement since the album's first single came out. It's been almost two years since the final 1989 tour dates, and Taylor has been pretty quiet since then. In other words, we're all dying for the chance to see Swift perform live again, especially now that she's got this edgy new attitude.
One thing (aside from, you know, the actual album) that has kept fans excited in hopes of a tour announcement is the fact that Taylor recently created something known as Taylor Swift Tix, which is a collaboration with Ticketmaster to make sure tickets get sold to fans, not scalpers and third-party ticket sites. This is perhaps the most surefire sign the Reputation tour is happening. If you need me, I'll be at the nearest Stop & Shop looking for pennies in the parking lot.
In the meantime, while we wait, it's the perfect time to get acquainted with the album. As usual, Swift's songs on Reputation are influenced by her personal experiences, and Taylor has had no shortage of high-profile celeb feuds, romantic relationships, and turmoil with the media over the past few years. The song titles on the album alone let you know her personal life is all over Reputation.
Now that the songs have been released in full, it's easy to see how some songs like "I Did Something Bad" and "This Is Why We Can't Have Nice Things" focus on her tumultuous relationships with Kanye, Kim, and ~perhaps~ Katy, meanwhile other songs like "Dancing With Our Hands Tied" and "Getaway Car" seem to reference her past relationships with ex-boyfriends Tom Hiddleston and Calvin Harris.
On top of that, a source recently told Us Weekly that, Reputation "chronicles [Taylor's] feuds" with major A-listers like Katy Perry, Calvin Harris, Kim Kardashian, and, of course, Kanye West. According to the source, Taylor's references to her high profile feuds are "across multiple songs, somewhat cryptically, but also obvious."
I guess all that's left to do now is imagine what the Reputation tour will look like. The 1989 tour had a bubbly, fun, and exciting sound and feel to it, but, as we have been reminded time and time again, the "old" Taylor is dead, so who knows what the new Taylor will look like on tour.
Check out the entire Gen Why series and other videos on Facebook and the Bustle app across Apple TV, Roku, and Amazon Fire TV.