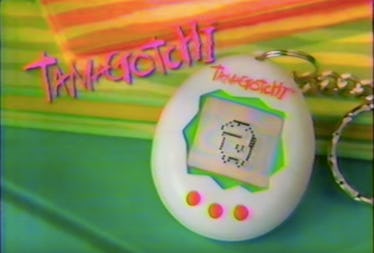 Tamagotchi Pets Are Coming Back To The U.S. Soon, So It's Time To Relive Our Childhood
The '90s resurgence has been going strong for quite some time, and now, you can help keep it (and a little throwback gadget) alive come November, because the Tamagotchi is back. I'm sure you'll quickly become reacquainted with the days when your Tamagotchi required round-the-clock care, even if that meant annoying your entire fourth grade math class with its beeps for attention or a feeding. Well, now you can annoy your adult coworkers with your little digital pet, and if you can't wait to get your hands on one, read on to find out when Tamagotchi pets will be available.
According to Mashable, the Tamagotchi will be released in the United States on Nov. 5. This is exciting news because Tamagotchi loyalists probably remember when the Tamagotchi was released in Japan back in April 2017. Entertainment company Bandai Namco brought back the old school pet exclusively to Japan, giving all '90s kids not living in Japan reason to go cry it out while listening to Backstreet Boys' "Show Me The Meaning of Being Lonely."
Well, get ready to blast some upbeat tunes when you finally get to recapture that Tamagotchi feeling in U.S. stores in November. Bonus, your holiday shopping just got so much easier
So, what can you expect from this revamped Tamagotchi? Well, it's actually going to be a little simpler some 20 years later, according to Mashable. For starters, the egg-shaped pet (because it adorably hatches when it's born) will be about half the size of the one you remember bringing on your family's summer road trips to make sure it didn't die while you were off riding roller coasters and eating churros in Disneyland.
When it comes to caring for the little guy, there's only four main points of care that you need to focus on: feeding, offering comfort when it gets sick, making sure that it gets some sleep, and cleaning up its digital poop. Also, it's mostly business when it come to Tamagotchi this time around — there are no more games to play on it. That's good news, though, because you're probably already distracting yourself enough at work with, oh I don't know... Instagram, Snapchat, Twitter, and Facebook.
You'll be able to focus on just making sure your beloved Tamagotchi is healthy and fed. It's not all serious business when it comes to the new Tamagotchi, though. You can still choose from six colors to make sure you're having fun with your digital pet. I mean, you are picking up pixelated poop, and I think that calls for a little bit of fun.
According to the current Bandai Namco website selling the Tamagotchis, the available shell colors are: blue with yellow, pink with blue, light blue with pink, white, orange, and translucent blue. That looks like plenty of options to make the perfect choice for your favorite childhood throwback toy.
Mashable also reports that whatever color you pick will not affect which Tamagotchi character hatches on it because all six original Tamagotchi characters are back, and you'll get one at random when your device hatches.
Seriously, the nostalgia is so real, and it's affordable. Once the new (but not really so new) Tamagotchi pets hit U.S. shelves on Nov. 5., they'll be selling for a cool $14.99. The Tamagotchi will even come with that little keychain you remember, so you can make sure you don't lose track of it with your new, busy life as an actual adult.
I don't know about you, but I'm about to set a reminder in my iCal for Nov. 5. Make sure you tell your friends, too, because you'll want to make sure that you're all in this Tamagotchi life together. It will be a welcome relief to talk about your cute little digital pets instead of all the reasons you've had to swipe left lately.
Check out the entire Gen Why series and other videos on Facebook and the Bustle app across Apple TV, Roku, and Amazon Fire TV.