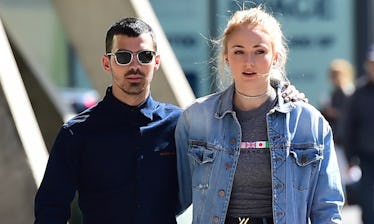 Here's Everything We Know About Joe Jonas & Sophie Turner's Engagement
Raymond Hall/Getty Images
OMG, you guys. Joe Jonas is officially off the market! He's engaged to Game of Thrones actress Sophie Turner, and fans everywhere are freaking their freaks. They make the cutest couple. Who knew Sansa Stark, Lady of Winterfell, would end up with a Jo Bro? Opposites attract, y'all. Turner and Jonas practically shut down the internet on Oct. 15, 2017, when they announced their engagement via Instagram. Jonas and Turner each posted the same photo of the engagement ring with the captions, "I said yes" and "She said yes." So, when will Sophie Turner and Joe Jonas get married?
Although the official wedding date hasn't been announced yet, I'm guessing it'll be a winter wedding, considering how amazing Turner looks in fur on GOT. Just imagine if her wedding dress is GOT-themed. That would be the most epic moment for all of us. What would they even serve at the wedding? I guess turkey legs and goblets of wine?
Turner and Jonas have been dating since December 2016. They were reportedly introduced to each other through mutual friends and started dating quickly after. Turner is only 21 years old, while Jonas is 28 years old, but who really cares? Young love. How beautiful. Gah. How do I get teary-eyed so easily?
In July of 2017, Turner told Marie Claire she was "very happy" in her relationship with the famous musician and opened up about the difficulties of being in the spotlight. She said,
You do feel like you're living in a fishbowl. It's frustrating [that] it's the most mundane things that make the news — how boring!
This wedding ring is definitely not boring. That's for sure.
After the couple shared the posts with their engagement rings, Jonas' brother Nick congratulated the couple by re-posting the photo to his Twitter and writing, "Ahh! Congratulations to my brother.. .and sister in law to be on your engagement. I love you both so much."
He's already calling her his "sister in law." Are you kidding me? That's the sweetest thing ever.
In an interview with the Sunday Times back in July, Turner shared that she's happier than she's been in "a very long time."
I'm happier than I've been in a very long time. I very much isolated myself for a while and forgot what was fun. Going out with friends, going out to eat, not really having a care. And people I've met recently in my life have drawn me out of that. It really helps you own those insecurities. The things I tortured myself about before, I can forget about.
It sounds like Jonas got her out of a funk and brought her back to life. They're in love! They're in love! And they don't care who knows it!
The Jonas family is reportedly thrilled about the engagement announcement as well. A source told People magazine,
Everybody's very, very happy for them and their family and friends are all thrilled. Everyone loves them together. She's young but is beyond her years and is crazy, crazy mature. He's never been like this with a girl.
The insider also added, "He was such a dater before her but their relationship was much different from the start. She was just the one for him."
I hope this relationship lasts because they are absolutely precious, and I love them together. Also, their dog is perfect. Can I haz?
So, will Jonas and Turner get married in the beautiful countryside, surrounded by close family and friends? Will they have a giant love fest with bottles of the finest champagne? Or will they keep it simple and elope with a classic ceremony? However they choose to celebrate their love, I'm sure it will be perfect. Congratulations, you two!