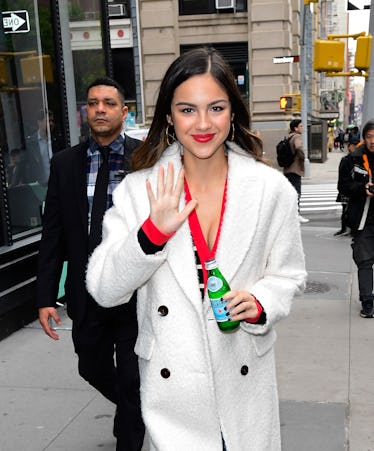 Olivia Revealed When She's Dropping Her Debut Album & It's So Close
Raymond Hall/GC Images/Getty Images
Following the release of "Drivers License" and "deja vu," fans are wanting more sad bangers from Olivia Rodrigo to get them through the breakup blues. With the artist's music in high demand, you might be wondering, when will Olivia Rodrigo drop her debut album? The world won't have to wait that much longer for the Disney star to release more bops because she confirmed her first record is on the way.
Rodrigo first opened up about her plans to release more music in her Feb. 4 interview with Nylon. At the time, the star was pretty guarded about giving any concrete details, but she did, however, reveal that she had a clear artistic vision for her first album. "I want it to be super versatile," she said. "My dream is to have it be an intersection between mainstream pop, folk music, and alternative rock. I love the songwriting and the lyricism and the melodies of folk music. I love the tonality of alt-rock. Obviously, I'm obsessed with pop and pop artists. So I'm going to try and take all of my sort of influences ... and make something that I like."
Rodrigo added she completed eight songs she's "happy" with that will show her artistic growth since debuting her first single. "I actually feel a lot more confident in my writing abilities since 'Drivers License' came out," she said of writing new tracks. She also confirmed new music would come out in 2021, and on Thursday, April 1, Rodrigo delivered on that promise with her second single, "deja vu."
The same day, Rodrigo announced her debut album would arrive on Friday, May 21. "alsoooooo i f*cked around and made an album. i'm so proud of it," the star wrote after dropping "deja vu," adding more details about it will be here soon. "presave here. artwork, title, and track listing coming soon eeeek!!!"
The news was especially exciting, considering Season 2 of High School Musical: The Musical: The Series would drop the week before on Friday, May 14.
Rodrigo has so many amazing projects lined up, so these next few weeks should be filled with teasers giving fans more details!
This article was originally published on