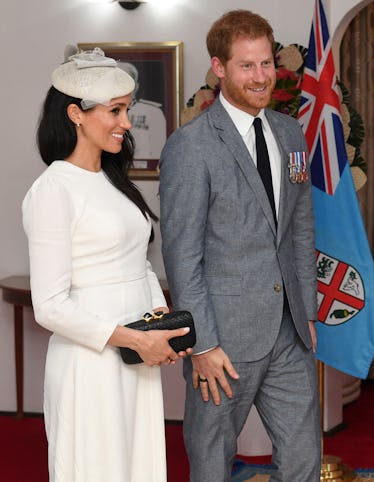 The Reason Why Meghan & Harry Are Reportedly Delaying Their U.S. Tour Is Understandable
Pool/Getty Images Entertainment/Getty Images
To all my friends in the United States, I've got some tough news for you. If you're like me, then you live and breathe all-things royalty. Meghan Markle and Prince Harry's royal wedding? Obsessed. Their royal baby announcement? Overwhelmingly excited. Speculation that the royal couple could make a visit to the U.S. as part of their royal tour? Over the damn moon. But, sigh. It looks as though Meghan Markle and Prince Harry are delaying their U.S. tour for a pretty obvious (and very understandable) reason.
According to TMZ, the Duke and Duchess of Sussex are reportedly pushing back their U.S. tour from the spring of 2019 until the fall of 2019 because of Meghan Markle's pregnancy. The site notes that Markle is supposed to be due sometime in the spring, so the delay would give her time to adjust to her new role as a parent before starting up the tour. It should be noted, though, that there was no real confirmation from the royal couple regarding a U.S. tour, but TMZ states that Meghan and Harry "plan to bring their baby with them" when they do decide to take their U.S. tour. Elite Daily reached out to Kensington Palace for comment regarding reports they'll delay their U.S. tour, but did not hear back by the time of publication.
But let's be real, you guys. Meghan Markle's pregnancy means that she needs to take things a bit slower on her current royal tour, and, according to People, she's "resting" and taking engagements day-by-day, even if it means missing out on some previously planned activities.
On Sunday, Oct. 21, Prince Harry attended a cycling event at the Invictus Games without his wife. Despite the initial reaction of concern from fans, it completely makes sense that she needs to pick and choose which appearances she'll attend.
According to tweets from Daily Mail reporter Rebecca English, the journalist said, "One source tells me it isn't that the duchess is feeling poorly, but they're trying to 'pace' her given how many engagements are coming up."
Prince Harry also confirmed the news to outlets that Markle was currently resting because "being pregnant takes its toll," and noted that she's planning to cut back on the number of events she goes to, according to ABC News' Twitter account.
You take all the time you need, girl. We are just so happy that there's going to be another royal baby making its debut soon.
The news of Meghan Markle's pregnancy was announced by Kensington Palace on Monday, Oct. 15, in a tweet that said, "Their Royal Highnesses The Duke and Duchess of Sussex are very pleased to announce that The Duchess of Sussex is expecting a baby in the Spring of 2019."
A follow-up tweet said, "Their Royal Highnesses have appreciated all of the support they have received from people around the world since their wedding in May and are delighted to be able to share this happy news with the public."
I am so excited, fam! While we don't know whether the royal couple will be welcoming a baby boy or a baby girl, Meghan Markle's blue dress while attending a State Dinner hosted by the President of Fiji, sure made it look like they may have a royal prince coming soon:
Pregnancy goals right there.
And even though The Daily Mail reports the dress shade is actually considered "Fijian blue," perhaps as a way to honor the country she is visiting, it's still exciting to speculate, isn't it?