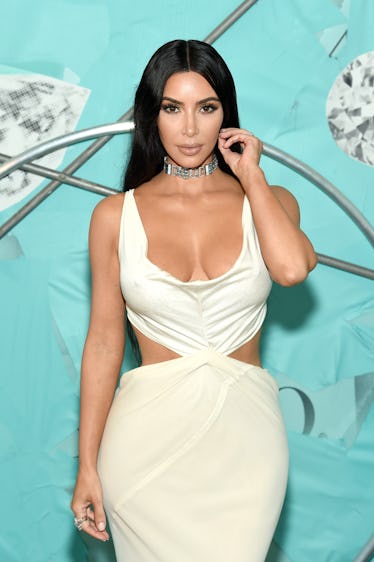 KKW Fragrances Are Officially Coming To Ulta, So Here's When You Can Snag 'Em
Dimitrios Kambouris/Getty Images Entertainment/Getty Images
First, it was Kylie Jenner who announced that some Kylie Cosmetics products would soon be carried at Ulta. Now, another beauty-minded member of the Kardashian-Jenner family has revealed that some of her own offerings will also be infiltrating the retailer's shelves. When will KKW fragrances be available at Ulta, you ask? The answer is soon, like, before-the-month-is-over soon, so be sure to map out the closest store to you stat because I have feeling they'll be selling out in a flash.
Since first launching, Kim Kardashian's KKW Fragrance line has continued to churn out collections that are as visually cute as delectably scented. Their notes and undertones were described in detail on the KKW Beauty website but that's the thing about scent—no matter how detailed of a description you might read about a certain scent, it will never be able to fully convey it. And seeing as KKW Fragrance has been exclusively sold online, it meant that people had to trust that it was good simply from marketing and the review's of others. Scent is subjective, and they way a fragrance will interact with your body's chemistry is even more specific. This goes to say that scents are certainly not one whiff fits all, which is why experiencing and testing them in person is so important. It's also why the announcement that KKW Beauty will finally becoming to a physical retail is such a big deal.
In a Tweet dated November 8, Kim Kardashian West announced that her perfumes would be hitting Ulta stores on Sunday, November 25. "So excited! @KKWFRAGRANCE is coming to @ultabeauty this holiday season! My fragrances launch in all stores across the country on Sunday 11/25! #KKWFragranceUltaBeauty," read the Tweet.
While it's a shame that the fragrances are landing post-Black Friday sales, it's exciting that they'll be able to shop before Christmas. Fragrance is one of my personal favorite beauty gifts to receive so if you've got a friend or relative who is equally enamored with perfume, I'd recommend taking them to your nearest Ulta, having them smell and test each KKW Fragrance, and buying them the bottle that they vibe with the most. Sure, they'll know their gift in advance, but it will be one that they really wanted—there's no better kind.
Which exact KKW fragrances will Ulta be stocking? That information is still TBD. But so long as the reviews are true, it sounds like each collection has been a total hit.
For a super juicy scent with notes of red cherry, raspberry, strawberry, cherry blossom, and gardenia petals, head for a bottle of Kimoji Cherry ($45, kkwfragrance.com). It's bottle is adorable and is almost a reason in itself to buy it.
If more floral-heavy scents are more your style, try Crystal Gardenia ($60, kkwfragrance.com), which offers top notes of water lily, anjour pear, and pink grapefruit.
And finally, there's KKW Fragrances's recently-dropped Body collection. It includes three different perfumes and while two are sold out, the KKW Body ($60, kkwfragrance.com) fragrance is still available at KKW Beauty's website. Maybe that means it has the best chance of dropping in-store? Featuring opening notes of bergamot and peach nectar, it's one your nose won't want to miss.