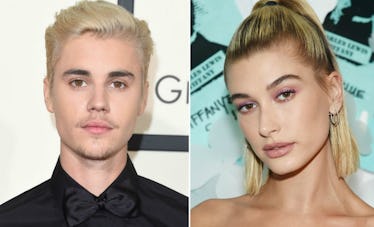 Here's When Hailey Baldwin Revealed She Might Have Kids With Justin Bieber
JASON MERRITT/GETTY IMAGES ENTERTAINMENT/GETTY IMAGES; JAMIE MCCARTHY/GETTY IMAGES ENTERTAINMENT/GETTY IMAGES
It's no secret that Justin Bieber and Hailey Baldwin are married now. And while their romance moved at a wildly rapid pace, everything seems to be slowing down now that they've tied the knot. But what about kids? When will Justin Bieber and Hailey Baldwin have kids? Well, that's one area where the couple will be moving and shaking sometime soon.
In an interview in the December 2018 issue of Vogue Arabia, Baldwin revealed that she and Bieber are definitely looking to have kids in their future.
"I love kids and I can't wait to have my own," Baldwin, 22, explained to Vogue Arabia. "I would say now that's a closer reality."
As much as Baldwin loves children and really wants to start a family with Bieber, 24, she did admit that they don't plan to have kids "any time soon." But planning and actually doing are two different things, so who knows what the future holds?
Bieber actually said in a 2011 interview that he wants to be a dad by the time he's 25 or 26.
"By 25 or 26, I want to see myself, like, married or start looking for a family. I want to be a young dad," Bieber told WWD back at the time. "I want to be able to have done what I wanted to do—to be successful, to do a movie or whatever. But if the time is right, I definitely want to be married by 25."
Bieber has definitely achieved some of his family-related goals by marrying Baldwin before he turned 25. It remains to be seen whether he'll become a dad in the next two years, though.
Despite that, Baldwin has specific ideas about how she wants to raise her future children and they're inspired by how Baldwin's parents raised her, as she explained to Vogue Arabia.
"The way my parents raised my sister and I was so far removed from Hollywood that we didn't really bring any aspects of the industry into our home," she told the magazine. "I got to have a normal childhood and teenage years. I didn't start getting recognition on my own until I was around 19. There are some 'normal' things I never did — like go to college — but I do think I was able to learn how to have a schedule, be on time, and be responsible, all because I started working at 17."
Well, all that sounds very humble and grounded. No doubt Bieber and Baldwin will be great parents when they do have children of their own!
As for how she's handling all the pressure of being Bieber's wife, Baldwin told Vogue Arabia that she's doing what she can to stay out of the spotlight for now.
"I try my absolute best to be removed from [the spotlight]. And I spend increasingly less time on social media," she told Vogue Arabia. "This has really helped me balance everything that comes with this life."
Needless to say, it seems like Baldwin and her new hubby are really enjoying married life and planning their future together. It wouldn't surprise me one bit if they ended up having kids sooner rather than later as they both seem pretty excited to start a family.