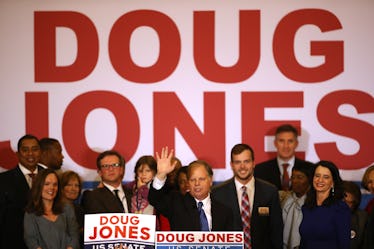 Here's When Doug Jones Will Actually Take Office After His Big Alabama Win
Justin Sullivan/Getty Images News/Getty Images
In a shocking upset on Dec. 12, Democratic candidate Doug Jones was projected the winner of the Alabama special election race, making him the first Democrat to be elected senator in Alabama since 1992. As usual, any elected candidate does not take office overnight, but must wait until the final results are certified in the state, which could take weeks. It's unclear when Doug Jones will actually take office, but it probably won't be before the new year.
Before Jones can be sworn in, each of Alabama's 67 counties have to report the official voting results to the secretary of state's office, no later than December 22, according to CNN. Once that happens, the state has until January 3 to confirm the results. Before the election, Alabama's secretary of state's office told CNN that they believe results could be confirmed by December 27-29, assuming every county gave their results on time.
If that's the case, the next step is taking the results to the Senate, so Jones can be sworn in. However, there could be a problem with that. The Senate is expected to take a recess from December 22 until January 3, depending on how early they can pass the tax bill and funding plan, according to CNN. If the Senate does take a recess by that time, they will not reconvene until January 3, delaying Jones' official entry into the Senate.
On Dec. 13, Democratic Senator Chuck Schumer called for a delay on the upcoming tax bill vote until Jones can be sworn in. Schumer made an announcement saying, "It would be wrong for Senate Republicans to jam through this tax bill without giving the newly-elected senator from Alabama the opportunity to cast his vote."
The major tax overhaul that Republicans have been trying to pass was just about to ride to success, until Doug Jones happened. The tax bill is currently going through a budget reconciliation process, which means they only need 50 votes for it to pass. Republicans hold a 52-48 Senate majority, but Jones' election just made it 51-49, giving Republicans a small window for error. Basically, if Jones is sworn in before the tax bill passes, the Republicans can only risk one vote against the bill.
If the Senate takes longer than Dec. 22 to pass the bill, Jones might be able to cast a vote against it, sending Republicans into a frenzy. If we know anything about our GOP-dominated Senate, it's that they can't seem to get a bill passed, at least not without the fear of a government shutdown. Republicans will likely try their hardest to pass this bill before the new year, while the current Alabama Republican senator, Luther Strange, is still in office and can contribute a vote.
Even President Donald Trump articulated Jones' possible influence over the bill. Before the election, Trump tweeted his support for Republican candidate Roy Moore on Dec. 4 by saying, "Democrats refusal to give even one vote for massive Tax Cuts is why we need Republican Roy Moore to win in Alabama..."
Jones' win is also significant for other reasons outside of the tax bill. The first being the obvious: he's a Democrat elected in Alabama, a historically red state. The last Democrat to be elected was Senator Richard Shelby, in 1992. However, two years later, Shelby switched parties during his term. Jones is considered to be a "conservative" Democrat, who has aligned himself with LGBTQ rights, pro-abortion, and even praised former President Barack Obama's Affordable Care Act (ACA, also known as Obamacare), while still suggesting it needed improvements and revisions. From this win, there is a bit of apprehensive hopefulness for Democrats, because if Alabama could elect a Democrat, just about any state could as well.
The next week will likely be madness in the Senate, as Republicans try to pass a tax bill while they still have the majority. Equally as hectic will be the state of Alabama, as they try to confirm the results of Jones' election win. It's a race against the clock to see if Jones will be sworn in before the new year, and if he will change the outcome of the tax overhaul vote.