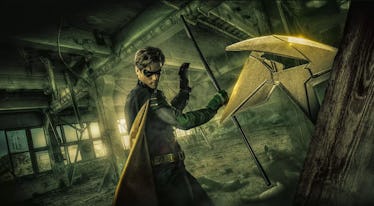 DC Just Announced When Its Dark 'Teen Titans' Remake Will Premiere
DC Universe
DC is ready to show you the Teen Titans like you have never seen them before. The superhero production company's dark and gritty remake of Teen Titans has just been given a premiere date. So, when will DC's Teen Titans remake premiere? It is coming your way very soon.
Titans will be the first original series to launch on DC's upcoming streaming service, DC Universe. The new show is a TV-MA-rated adaptation of the iconic DC superhero team, the Teen Titans. The comic-book team has previously been adapted for television in the 2003 WB cartoon Teen Titans, and the currently running Cartoon Network Teen Titans Go!, which skews younger. Titans notably stands apart from both of those adaptations as the only live-action series, and also for its casual displays of expletives and blood, earning it a surprising mature rating.
Last month, DC Universe released its official trailer for Titans, which introduced the series' live-action stars: Brenton Thwaites as Robin, Anna Diop as Starfire, Teagan Croft as Raven, and Ryan Potter as Beast Boy. The series appears to not include the Titans' fifth member, Cyborg, who is currently being established as a main part of the DC Cinematic Universe on the big screen. The trailer also informed fans of the dark and bloody tone of the series, ending with Robin angrily muttering "F**k Batman." Check out the Titans trailer below.
Before Titans can premiere, the DC Universe streaming service first has to be made available. DC announced that DC Universe will be open for subscription on Sept. 15, which is fittingly known as Batman Day among comic book devotees since it marks the iconic hero's first-ever appearance. After DC Universe is online, Titans will be available to stream just a couple weeks later. The new series will first premiere at New York Comic Con on Oct. 3, and then it will be released wide on DC Universe on Oct. 12. Yep — that's just a little over a month from now.
Titans is just the first of many original series that DC Universe has planned. Titans will also introduce the characters of the superhero team Doom Patrol — Robotman, Negative Man, Elasti-Girl, Crazy Jane, and Dr. Niles "The Chief" Caulder — and will lead directly into a spinoff series called Doom Patrol, which is slated to premiere in 2019 and pick up immediately after the events of Titans.
The new streaming service will also premiere a Swamp Thing live-action series and a dramatic live-action adaptation of Stargirl in 2019. On the animation side, DC Universe will also begin airing Young Justice: Outsiders and a comedic Harley Quinn series in 2019 as well. On top of all that, the service is also putting together a news program called DC Daily that promises to keep subscribers informed on all things going on in the DC Universe, be it comic books, movies, or TV shows.
But first up, DC Universe will be made available for $7.99 per month or $74.99 per year on Sept. 15. Then, Titans premieres on Oct. 12.