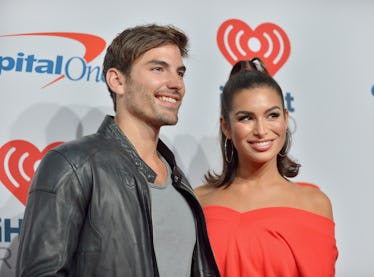 Ashley Iaconetti & Jared Haibon Just Revealed Exactly When They Want To Have Kids
Sam Wasson/Getty Images Entertainment/Getty Images
Ashley Iaconetti and Jared Haibon aren't even married yet, but they're already planning to have kids. In a recent interview with Entertainment Tonight at KIIS FM's 2018 Jingle Ball, Iaconetti and Haibon dished about what their future holds and when they plan to grow their family. So, when will Ashley Iaconetti and Jared Haibon have kids? Well, it'll be much, much sooner than you think!
Actually, Iaconetti and Haibon have a very specific date in mind and it's a special one!
"We're thinking, like, six months after we get married. So that'd be, like, my 32nd birthday... that I would try," Iaconetti told ET's Katie Krause.
"Yeah, 2020," Haibon added.
Iaconetti's birthday is March 6, and she'll be 32 in 2020, as Haibon mentioned, so it's still a long while away. The happy couple has been doing quite a lot of planning since they announced their engagement in June 2018.
Not only are they prepared to have kids shortly after their August 2019 wedding, but they basically have most of their wedding details ironed out as well. Back in October 2018, the couple told ET that they had a dress and a venue picked out, so they were basically halfway done planning just a few months after getting engaged.
"We have a dress. We definitely have the venue picked out," Iaconetti told ET at the time.
By then, they had also decided to have Tanner Tolbert officiate their wedding.
"We want Tanner to officiate the wedding," Haibon said at the time. "I can already see him with his smile again."
"He'll provide the laughs, cries. Not just cries, but the laugh cries," Iaconetti added.
They also announced their choice to have Tolbert officiate on Instagram with a really sweet photo and caption. In an Oct. 17 Instagram post, Haibon shared a photo of himself, Iaconetti, and Tolbert while spending time in Puerto Rico.
In the caption, Haibon wrote, "Dearly beloved, @tanner.tolbert is officiating our wedding in August 2019. This is a preview of things to come."
You can check out the post down below:
Iaconetti and Haibon got engaged in Mexico while filming season five of Bachelor in Paradise. At the time, the couple told ET how they keep their relationship strong.
"It is easy," Haibon said. "I have never been in a friendship or a relationship that has ever been easier and we never get tired of each other.""We never get tired of each other. That is definitely one of the big things because I get tired of my best friends. Like, if I am with them for 24 hours I'm like, 'Get out of my house,'" Iaconetti joked. "With him, I think we have only been separated for a maximum of, like, 16 hours since being engaged. That was one night apart and I haven't been tired of him at all. I haven't been thinking, like, 'Oh, I am craving alone time right now.' I don't crave alone time with him, which is so nice."
So, it sounds like Iaconetti and Haibon have everything planned out! I'm sure they'll make wonderful parents one day!