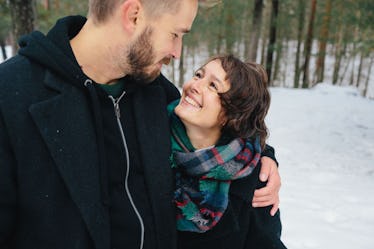 10 Women Share When They Said 'I Love You' For The First Time & OMG, My Heart
The beginning of a relationship is always plagued by the same question: When should you say 'I love you' for the first time? Obviously, it would be great if we could just come right out and say it the moment we felt it, but considering the fact that it's pretty much one of the most vulnerable positions we could ever put ourselves in, it can be scary. Several factors come into play before deciding to say the words out loud.
I remember when my boyfriend first said it to me. We had just gone out to dinner and were laughing about something at my apartment afterward, and he just sort of blurted it out. I remember being taken aback because he said "I'm in love with you," which was more awkward for me to respond to. Do you go with "I love you too"? Or do you go with, "I'm in love with you too"? TBH, I don't remember what I ended up going with but, in some way, shape, or form, I did say it back. It's funny because I'd known I loved him for a few weeks before he said it — I was just waiting around for him to say it first.
Unlike me, these women who responded to a recent AskWomen thread on Reddit were totally unafraid to say it first. Read along and marvel at their bravery.