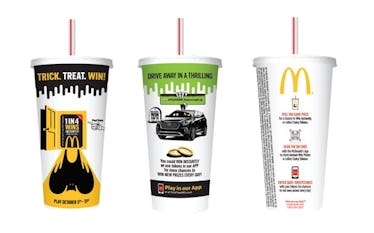 McDonald's' $50,000 Final Drawing Is Still Up For Grabs, So Fingers Crossed
McDonald's
OK, OK, I'll admit it: I thoroughly enjoy getting in on a little good old-fashioned competition every once in a while... er, like, all the time. I totally live for playing games, I will enter almost any type of contest imaginable, and I'm a total sucker for joining sports leagues. Right now, though, I'm solely focused on gaining some big wins from McDonald's latest sweepstakes, called "Trick. Treat. Win!". TBH, it's quite literally killing me right now. So, you're most likely wondering when McDonald's' "Trick. Treat. Win!" $50,000 final drawing is happening, and get ready, because the results are coming in very soon.
If you haven't been paying any attention to McDonald's latest and greatest sweepstakes, Trick. Treat. Win!, it's definitely worth your time. Per McDonald's, until Wednesday, Oct. 31, the fast food chain was giving out game pieces on select McDonald's menu items. They were labeled as instant-win food prizes, instant-win non-food prizes, or sweepstakes tokens, and they're redeemable through the McDonald's app.
Through Oct. 31, you had the chance to potentially win $50,000 as an Instant Win Prize or as one of the four Daily Sweepstakes Prizes, per the official rules page. But if you missed that, you still have a chance at the $50,000 Final Drawing.
Until Nov. 19, you're able to use Entry Tokens from the game to enter into the Final Drawing prize of $50,000. McDonald's did not reply to Elite Daily's inquiry concerning the exact Final Drawing date. Regardless, though, the winner will be notified approximately two business days after the drawing, which will likely take place shortly after the entry window closes on Nov. 19. I can't freakin' wait.
According to McDonald's, the fast food chain won't be publicly announcing any of these prizes. You either will or won't pick the winning piece. It's that simple.
In addition to cash prizes, there were tons of other non-food and non-cash prizes you can win. You could snag anything from a brand new 2019 Hyundai Santa Fe, to a free trip for two to Turks and Caicos, and even a Universal Parks & Resorts four-day experience. Regardless of what you win, all of the non-food, non-cash prizes sound pretty tight.
If you don't win one of the enticing non-food or cash prizes, though, the food and drink prizes are actually pretty enticing as well. You could win a Medium or Large Hot McCafé Beverage, a Medium McCafé Cold Beverage, Fountain Beverage or Iced Tea, a Quarter Pounder with Cheese Sandwich, a Filet-O-Fish Sandwich, a six-piece Buttermilk Crispy Tenders or Ultimate Chicken Tenders, a 10-piece Chicken McNuggets, Hash Browns, or a McMuffin Sandwich. My stomach is grumbling just thinking of the possibilities.
If you do end up winning the $50,000 in the Final Drawing, I have a suggestion on how you should spend it. If you spend a small chunk of that money on a plate ticket to Malaysia, you'll finally get the chance to try McDonald's' Salted Caramel & Chocolate Pies, and everything will be right in the world. Listen, I know booking a plane ticket to Malaysia would normally be, like, kind of a big deal, but with an extra 50 grand in your pocket, that sweet and salty Malaysian masterpiece is totally priceless. You feel me?
Entering a sweepstakes is always fun, and with a $50,000 Final Drawing prize, there's no reason not to. Just make sure you scan your game pieces before Nov. 19 — it'd be quite a shame to miss out on this.