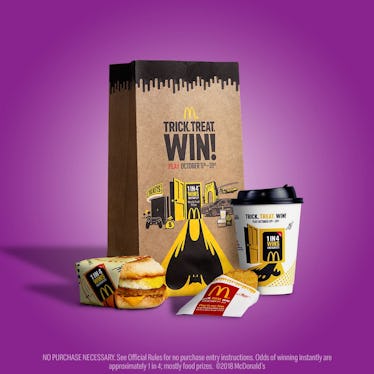 This Is When McDonald's' "Trick.Treat. Win!" Halloween Game Ends For Good, So Play Now
Courtesy of McDonald's
If you're a big fan of Mickey D's, then you're probably already aware of McDonald's' "Trick. Treat. Win!" Halloween game. It's basically like a spooky AF way to win some great prizes from your fave fast food joint. Since the game began on Friday, Oct. 5, you might be wondering how long you have to get your hands on some great prizes. So, when will McDonald's' "Trick. Treat. Win!" Halloween game end? The good news is that you have some time to get in on the spooky action.
In a McDonald's press release on Thursday, Oct. 4, the chain announced the beginning of its Trick. Treat. Win! game. Per the release, there are two ways to play the game that gives you chances to win McDonald's food and seriously cool prizes. You can either win instantly by peeling game pieces off of select McDonald's menu items, or you can play on the McDonald's App with entry tokens from game pieces.
I'll get into the specifics in a moment, but what you need to know right now is that the Trick. Treat. Win! game ends on Halloween, aka Wednesday, Oct. 31, 2018, or "while game pieces last," per the release. So, you still have a few weeks to get in on the fun, but I wouldn't wait too long.
When is comes to the loot you can score when you play, there are three categories of prizes: instant-win food prizes, instant-win non-food prizes, and sweepstakes tokens. The cold hard cash offerings include prizes ranging from $100 to $10,000, with a grand prize of $50,000 in the final drawing. The Final Sweepstakes drawing entries must be received by Nov. 19, 2018, per the McDonald's website.
If you play in-store, you'll have the chance to peel back a game piece from one of the many items available in the game. According to McDonald's, the tasty bites and sips that will get you a game piece are:
Medium or Large Hot McCafé Beverage
Medium McCafé Cold Beverage, Fountain Beverage or Iced Tea
Quarter Pounder with Cheese Sandwich
Filet-O-Fish Sandwich
Six-piece Buttermilk Crispy Tenders/Ultimate Chicken Tenders
10-piece Chicken McNuggets
Hash Browns
McMuffin Sandwiches (excluding Sausage McMuffin Sandwich)
OK, my McDonald's order will be exclusively made up of items from this list until November rolls around. If you want more tech-filled Trick. Treat. Win! experience, you can also play on the McDonald's App. Simply add codes found on game pieces to collect prizes while also collecting entry tokens for Daily Sweepstakes. The sweepstakes prizes range from a 4K Ultra HD Element Roku TV to a "Dr Pepper Football Fan Trip," per the Trick. Treat. Win! website. You can enter the Daily Sweepstakes online or on the McDonald's App.
You can also collect game pieces without even making a purchase, according to McDonald's. Simply request two game pieces by mail and include a prepaid return envelope marked no later than Wednesday, Oct. 31.
With so many ways to play — and so many awesome prizes up for grabs — you don't want to miss out on all the Trick. Treat. Win! fun. So, figure out that Mickey D's order and head to your nearest location before October comes to a close. Good luck!