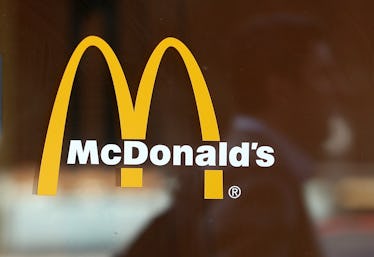 You Have A Chance To Win $50,000 With This McDonald's Halloween Game
Justin Sullivan/Getty Images News/Getty Images
The Halloween season is upon us, which means it's not only time to start thinking about your costume, but also your competitive spirit. Why, you ask? Well, there's a new Monopoly-style game from Mickey D's, and you are going to want to bring your A game to win. McDonald's "Trick. Treat. Win" Halloween game is all about the prizes, so get ready to play.
McDonald's "Trick. Treat. Win" Halloween-themed game begins on Friday, Oct. 5 and ends on Wednesday, Oct. 31 (or when the game pieces are all gone), according to McDonald's. There are three categories of prizes you can win: instant-win food prizes, instant-win non-food prizes, and sweepstakes tokens.
So, what exactly can you win? The most coveted bounty of all is the big $50,000 grand prize winning that is being offered, according to McDonald's. There are also other cash prizes including chances to win $100 and $10,000. Aside from the $50,000 jackpot, you will also have a chance at winning free food, theme park tickets, movie tickets, Roku TVs, gift cards, as well as a beach vacation and a car. If you're one of those people who feels like no matter how hard they play, they never win, let me bring some good news your way. There will be 577 million "Trick. Treat. Win" game pieces floating around out there, so I'd like to think you are bound to win at least one prize.
Now, you need to know how to play. The first way is to purchase food and drinks from McDonald's. Just like the McDonald's Monopoly game, there will be game pieces attached to food wrappers and drink cups. All you have to do is peel back the game piece to reveal your possible winnings. Here are the qualifying menu items that come with a single game piece, according to McDonald's:
Medium or Large Hot McCafé Beverage
Medium McCafé Cold Beverage, Fountain Beverage or Iced Tea
Quarter Pounder with Cheese Sandwich
Filet-O-Fish Sandwich
Six-piece Buttermilk Crispy Tenders/Ultimate Chicken Tenders
10-piece Chicken McNuggets
Hash Browns
McMuffin Sandwiches (excluding Sausage McMuffin Sandwich)
For larger items, such as the 20-piece Chicken McNuggets and Large Fries, there will be two game pieces affixed to the outside of the box. If you order one of these menu items and it doesn't come with an attached game piece, just ask your cashier for a game piece card.
The second way to win prizes is to use the McDonald's App or on the "Trick. Treat. Win" official website. To play in the app, you will need to collect Entry Tokens from game pieces to enter the "Trick. Treat. Win" daily sweepstakes. You can redeem the code "20FREETOKENS" each day for a chance to win. McDonald's will award 27 prizes daily to lucky winners across the country. Just think, it could be you. The McDonald's app is currently available for download on iOS and Android devices.
You can also collect game pieces without making a purchase, according to McDonald's. All you have to do is request two game pieces by mail and include a prepaid return envelope marked no later than Wednesday, Oct. 31. Easy peasy.
According to McDonald's, your chances of winning are 1 in 4 and it's probably going to almost always be free food. Maybe it's a free McDouble or maybe it's a free fry. Whatever it might be, I'm not one to argue with free food. So, I'll take what I can get. May the odds forever be in your favor for that $50,000 payout. Remember, you've got to play to win. Good luck!