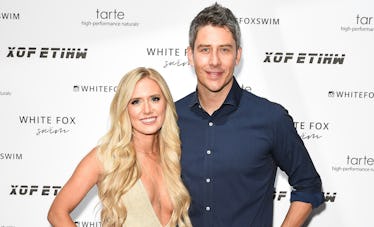 Arie Luyendyk Jr. & Lauren Burnham Are Pregnant With Their First 'Bachelor' Baby
Presley Ann/Getty Images
There's about to be a new baby in Bachelor nation! Former bachelor Arie Luyendyk Jr. and his fiancé Lauren Burnham just announced that they are expecting their first child. The pair revealed the big news through an adorable photo shoot with Us Weekly. So, when is Lauren Burnham due, and what else should fans know about the soon-to-be parents? Let's get into this exciting news.
As Bachelor fans know, Arie Luyendyk Jr. and Lauren Burnham met at during the most recent season of The Bachelor, which aired at the very beginning of 2018. The two had a particularly dramatic love story, which saw Lauren in the final two with fellow contestant Becca Kufrin. Arie initially proposed to Becca at the end of the season, but revealed soon afterwards that he was actually in love with Lauren and broke off the short-lived engagement. During the After the Final Rose reunion special in March, Arie proposed to Lauren, and the two have been together ever since.
In an exclusive with Us Weekly, Lauren Burnham revealed that Arie Luyendyk Jr. was the one to confirm the news by reading the results of her pregnancy test to her:
I kind of had a feeling that I might be pregnant. So my friend insisted on bringing a pregnancy test over. Arie came out with the test in his hand and tears in his eyes. He was like, "You're pregnant!"
Arie Luyendyk Jr. says that Lauren Burnham then took six more pregnancy tests just to be sure, and they all confirmed that she is indeed pregnant. The couple was not trying for a baby, Luyendyk Jr. says, but they are both excited for this new chapter in their lives.
The engaged couple announced their pregnancy through a loving photo shoot in their Phoenix, Arizona home. The photos show Arie and Lauren kissing while holding out ultrasound photos of their baby-to-be. Check out shots from the photo shoot in Us Weekly's Instagram post.
On her Instagram account, Lauren Burnham revealed that she is due to give birth in June of 2019. She shared that she spent most of October confined to her house due to really bad morning sickness, but she is now starting to feel much better and has hired a new trainer to help keep her energy up through her pregnancy.
Arie Luyendyk Jr. and Lauren Burnham are also still in the midst of planning their wedding, which is set to take place in January, a year after the two first met on The Bachelor. Lauren said that she has begun working with a designer to be sure her wedding dress will be the perfect fit as her pregnancy progresses.
The couple also shared how they think they will fare as parents. Arie Luyendyk Jr. said that he thinks that Lauren Burnham will have to be the disciplinarian because he is too much of a softie, and Lauren pointed out that is pretty much how their roles shake out in taking care of their two dogs, Bastain and Dallas.
Before Arie and Lauren welcome their first baby into the world next summer, they will get married in just about two months.