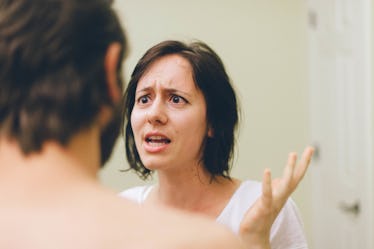 This Is When Most New Couples Have Their First Fight, According To Experts
Imagine you're on a first date and you and your partner each point at different dessert items on the menu when the waiter comes over. No big deal, right? Just a funny story to tell your friends when you make your relationship official. Except, your partner is majorly offended. She's appalled that you actually think the raspberry cheesecake is half as good as the fudge brownie and so, you have your first fight. If you're asking yourself, "When is it normal to have your first fight," it's certainly not on your first date and probably not over a fudge brownie, either. I mean, dessert is great and all but I'm not about to have a full-blown argument with someone over the 40-page dessert menu at The Cheesecake Factory.
Although we can all agree that the first date is way too soon to have your first fight with someone, it's not always that clear-cut. Dr. Fran Walfish, Beverly Hills family and relationship psychotherapist says, "It's less about time and more about when you feel comfortable enough to disagree openly with each other. It's natural for couples to disagree and even fight. After all, you bring two separate people who come from two different families with completely different dynamics, you're bound to have different points of views."
Whether you run into these problems a few weeks into your relationship or a few months in depends on relationship dynamics like how often and how honestly you communicate your needs with each other and how responsive each person is to their partner's concerns.
Here's what Dr. Walfish and Nicole Richardson, licensed marriage and family therapist, had to say about when most couples have their first fight.