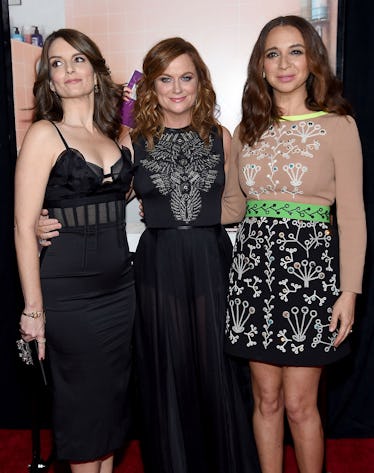 Amy Poehler Is Making A Netflix Movie With Your Favorite 'SNL' Women & We're Not Worthy
Jamie McCarthy/Getty Images Entertainment/Getty Images
"Your new favorite movie" is coming, according to Amy Poehler. The Saturday Night Live alum has a film in the works coming to Netflix — and she's enlisted her funny friends for the project. Basically, it's a dream cast made up of comedy greats Poehler, Maya Rudolph, Rachel Dratch, Ana Gasteyer, Paula Pell, Emily Spivey, and none other than Amy's BFF Tina Fey. The upcoming movie surrounds a group of ladies heading to Napa to celebrate a 50th birthday. When does Wine Country premiere? Amy's directorial debut will reportedly begin filming this month, so hopefully it will arrive next year if we're lucky.
It's the SNL reunion we all need. These women have brought us so much joy over the years, so we're ready for more on-screen adventures. If for some reason you need further proof that this movie is bound to be epic — a teaser revealed footage of some of the cast just chilling while crooning along to the aptly-titled tune "Whenever I Call You Friend" by Stevie Nicks and Kenny Loggins. Let us in your friend group, Amy! We want to be a part of these living room sing-alongs and the subsequent blurry phone videos that follow.
Emily Spivey is the writer behind the Wine Country script, which is promising news considering she's penned for a roster of hilarious shows like SNL, Parks and Recreation, King of the Hill, and The Last Man on Earth.
Poehler, Rudolph, Fey, Gasteyer, and Dratch all overlapped on SNL during Season 27, from 2001 - 2002. That was actually Amy's inaugural season of the long-running sketch comedy program and it happened to be Ana Gasteyer's last. Amy was promoted to repertory player halfway through the season.
Since their time on Saturday Night Live, the entire esteemed group has gone on to stardom in their own right. Gasteyer has worked steadily on TV and appeared in film faves like Mean Girls. After seven SNL seasons, Rachel Dratch has been featured in dozens of TV shows, including 30 Rock and Bob's Burgers. Maya Rudolph has a massive list of impressive credits to her name, such as the iconic Bridesmaids. Tina Fey moved on to movie star status, in addition to creating mega-hits like 30 Rock and Unbreakable Kimmy Schmidt. She's been a frequent collaborator of close pal Amy Poehler — the duo hosted to the Golden Globes three times, starred in Sisters and Baby Mama together, and teamed up for a handful of unforgettable entertainment moments. The Jimmy Fallon Jersey Shore parody "Jersey Floor," anyone?
"People sometimes used to say, 'Why don't you guys do a series together?' or whatever. And the funny thing is that I think we both know this to be true, it's because we're actually both alphas," Tina Fey remarked in 2016 of their working relationship. "So, it works in short spurts, but I don't know if it would make a real dynasty."
Fair enough. We'll take whatever we can get.
Amy's been busy producing shows like Broad City and the upcoming Making It. She starred in last year's The House alongside fellow SNL alum Will Ferrell and had stints in Wet Hot American Summer: Ten Years Later and Difficult People. She released a memoir, "Yes Please," in 2014 and helped create "Smart Girls," an "organization is dedicated to helping young people cultivate their authentic selves."
"Every time I did a scene with the other ladies, it felt like a highlight. And if it was a stinker, it was almost more fun to think about how we would laugh about it later," Amy Poehler recalled her SNL days in a 2015 Glamour interview.
Poehler behind and in front of the camera with her SNL cohorts beside her? Sign us up for a trip to Wine Country.