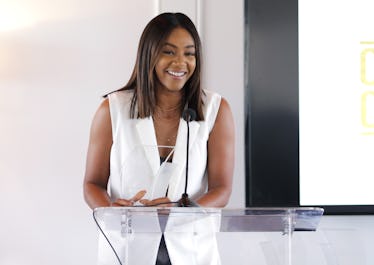 Tiffany Haddish Is Set To Produce An HBO Comedy Series & It's Exactly What The World Needs
Jerritt Clark/Getty Images Entertainment/Getty Images
If there is any rising celebrity that I want to hang out with, it's Tiffany Haddish. The Girls Trip star has become another of America's sweethearts in the past year, charming us with her bubbly humor and down-to-earth realness. Whether it was her red carpet interviews or hilarious SNL hosting stint that made you her devout fan, Haddish has reached a peak in her career, and things are only getting better for her. She will soon executive produce a HBO comedy series, so because I need more of her humor in my life, when does Unsubscribed premiere?
The series, currently in development at HBO, has yet to receive an official airdate, but it already sounds like the show Unsubscribed will be another hit for the cable network. Variety reports that the series will explore "female blackness, beauty, and identity through a behind-the-scenes look at the Instagram hustle." Not only is this an underrepresented perspective that cable TV sorely needs right now, the rest of Unsubscribed's creative team is so qualified for the opportunity.
As a writer and executive producer of the series, The Mindy Project's Xosha Roquemore will make her writing debut on Unsubscribed. On The Mindy Project, Roquemore's Tamra was always a well-needed relief from some of Mindy's incessant relationship drama, and I can't wait for Roquemore to take on a new creative task. Her co-writer and executive producer, Danielle Henderson, has previously written for HBO's Divorce and the Hulu series Difficult People. If you've spent any time on the internet, you know about the Feminist Ryan Gosling meme, and Henderson is to thank for it – she created the meme's original website. Put these two together with Haddish and it sounds like Unsubscribed has discovered a true recipe for success.
Earlier this year, Haddish joined the ranks of true A-listers when she signed a two-year first-look deal with HBO through her production company She Ready. In a recent interview with Vanity Fair, Haddish spoke about her drive to always do more in her career, and the Unsubscribed deal is proof that she's following up on those plans:
I'm so sleepy most of the time but I guess it's 'cause I'm constantly doing things and trying to move forward and set up for the master plan. The master plan is to be like little baby Oprah, with my own production company, maybe my own channel, inspire millions. So, yeah. A little bit tiring from time to time. I'm learning how to manage time better now.
The actress has a busy year ahead of her both onscreen and off. She stars in the new TBS show The Last O.G. and will executive produce the upcoming film The Temp. Haddish will also star in and produce the Paramount film Limited Partners. In September, she will appear in the film Night School alongside Kevin Hart. Such a packed schedule may prevent her from making a guest appearance on Unsubscribed, but I have my fingers crossed for a surprise cameo. Henderson is definitely a fan, so who knows what could happen?
Since The Mindy Project wrapped last year, Roquemore has scored a role playing DJ's wife on the Roseanne reboot, and while it's unclear if she will also stay offscreen for Unsubscribed, she's clearly relishing in the new title of producer. I mean, who wouldn't?
With this strong trio of women in charge of the new series, HBO is creating more opportunities for black women, and I love this move toward including more diverse point-of-views on the network. Plus, in today's society, we all sometimes have our views of beauty skewed by Instagram, and throwing this social media angle into the show's premise is definitely unique. It sounds like Haddish, Roquemore, and Henderson have a successful project ahead of them!