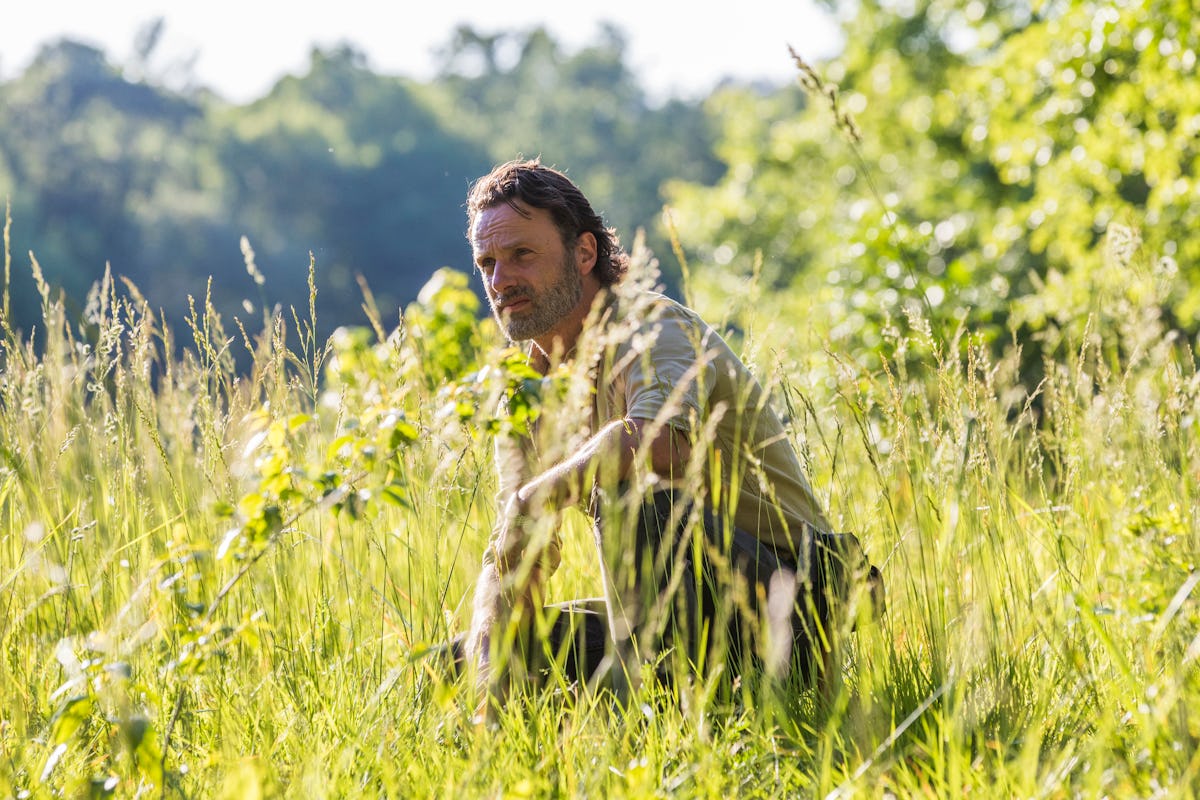 'The Walking Dead' Season 8 Is Going On A Holiday Break & Here's When It Returns
Jackson Lee Davis/AMC
It's happening, guys. We're in that dreaded time of year where a lot of TV's best shows go on a hiatus for winter break. It just comes with the holiday territory. Go ahead, spend time with the people you love, indulge in seasonal cheer, get festive, new television will be waiting for you when its ready. But when? The Walking Dead is just one of the many programs that will leave our screens for a short while after this week, so be prepared for a couple months of less undead action in your life. But when does The Walking Dead return? The second half of Season 8 is on its way... but you'll have to be patient.
This Sunday, Dec. 10, fans will get the chance to watch the eighth episode of the top-rated AMC hit's eighth season — the last of the show until 2018. Official word on a winter return date hasn't been announced, but the final episodes of the season will likely return February according to ComicBook.com, concluding with an April finale. The series has broken for a December and January airtime gap for the past six seasons, returning in February to pick things up where they left off. So it's looking like you won't have an entirely cold and zombie-less winter ahead of you.
No need to fret — there's also good news. Sunday's midseason finale, "How It's Gotta Be," is a super-sized 90 minutes of what's shaping up to look like a shocker. You probably have already noticed the longstanding pattern that those winter TV conclusions rarely disappoint and keep things interesting. The writers typically have a way of jamming in a few WTF jaw-droppers or major plot points just before they take a show away for a brief stint. This show in particular is The Walking Dead, of course — a series packed with blood and gore with the actual word "dead" in the title — so the inquiry on everyone's minds is, "who will die?" That's just the natural thought each week when you're a TWD fan though.
Katelyn Nacon, who plays Enid, recently spoke to Metro about what to expect. She revealed changes are a-comin,' but maybe not in the way you would anticipate. "There's going to be a change that happens. Not necessarily a huge shift, but the second half of the season is going to be pretty different emotionally ... It's more of a shift with the way the characters are emotionally and in their mental state."
The real kicker? "I feel like fans are going to have a love/hate relationship with it," she added. Huh. Interesting...
Nacon also revealed to The Independent, "There is going to be some tough stuff to come but I feel like it will come with a silver lining because there are a lot of horrifying things to come, but also a lot of beautiful things that comes with it, comes because of it."
Even though The Walking Dead has proven to be one heck of a ratings juggernaut for AMC throughout its run thus far and has dominated Sunday for years, the show might be feeling the eighth season itch. Is that even a thing? According to Deadline, the November 21 episode suffered the series lowest ratings since 2011. Sunday Night Football and the AMAs could have been to blame, but it appears that the devoted Walker Stalkers were elsewhere that evening. With promises of big things in store for this week's midseason finale, maybe they'll come through on Sunday and prove the ratings slump wrong.
In any case, watchers of The Walking Dead presumably have a few months to digest whatever goes down this week. If the sneak peeks and teases are any indication, loyal viewers probably aren't going to want to miss it.