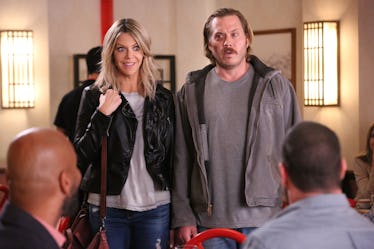 'The Mick' Season 2 Is About To End, So Start Getting Ready For All Things Season 3
Patrick McElhenney/FOX
The FOX series The Mick has coasted calmly through its second season, and if you haven't been keeping up with the show, now is the time to catch up. When the series began last year, we met Kaitlin Olson's Mickey, who is an irresponsible hot mess when her wealthy sister and brother-in-law are suddenly arrested for fraud and tax evasion, forcing Mickey to take care of their children in their absence. As Season 2 comes to a close, Mickey has shifted into more of a non-traditional maternal figure, and I'm totally invested in her changes. With the Season 2 finale underway, when does The Mick Season 3 premiere?
As of April 3, FOX has yet to renew The Mick and the majority of its other shows for another season. With most TV shows wrapping up seasons in May, the network still has a few more weeks until a decision has to be made, but last November, it ordered additional episodes for the second season of The Mick. This brought Season 2's total episode count to 20, three more than what was filmed for Season 1. The ordering of more episodes isn't necessarily a guarantee that the network wants another season of a show, but in this case, it could be a good sign of The Mick getting renewed.
Until news of another season comes through, fans have the Season 2 finale to look forward to. Airing on Tuesday, April 3, the finale episode "The Graduate" covers Mickey finding out that her niece Sabrina isn't planning to go to college. According to Variety, Mickey first tries to convince her to go to college so Sabrina will leave home, but she then realizes that her niece needs a lesson in not letting fear control her decision making. Compared to the house fire that Season 1 culminated with, the interaction between Mickey and Sabrina is definitely a sweeter insight into what the show and its actors are capable of. Speaking to Variety, Olson said of the finale:
It is all about the balance. Mickey's arch-nemesis in this whole series is this 17-year-old girl, and it's so ridiculous that she won't admit that she's a rival. But I think in order for that to pay off and in order for us to be able to buy their negative dynamic you have to be able to see how much she loves her — without beating the heart stuff over the head because it is a comedy.
There may be a heartfelt bonding moment in store for Mickey and Sabrina, but Olson, who also works as an executive producer on the series, likes to ensure that Mickey's life with the kids doesn't allow the character to become sickeningly sweet. She told Variety:
At some point we needed to make it clear that Mickey needed to stay, but I really didn't want it to be that 'oh, she fell in love with these kids and didn't want to leave them alone.' I wanted it to be that she's staying because she's trying to prove to them that she can do it — and selfishly she doesn't have anywhere else to go.
The possibility of Season 3 is up in the air, but Olson already has plans for storylines the show can explore if another season is in the cards. Referencing a Season 2 episode in which Mickey visited her hometown, Olson told Variety that she wants to delve further into her heroine's past and what exactly has made her the way she is:
I just think where she comes from is so ripe with fun, interesting characters. I'd like to dig a little deeper into that. She probably has a lot of amazing friends from her past.
Mickey definitely started out as a anti-hero of sorts, but if there's anything Season 2 has proven, it's that her tough exterior is slowly cracking. i have my fingers crossed that we'll get to see more of Mickey's softer side if The Mick returns for Season 3.
Season 2 of The Mick concludes on Tuesday, April 3, at 9 p.m. ET on FOX.