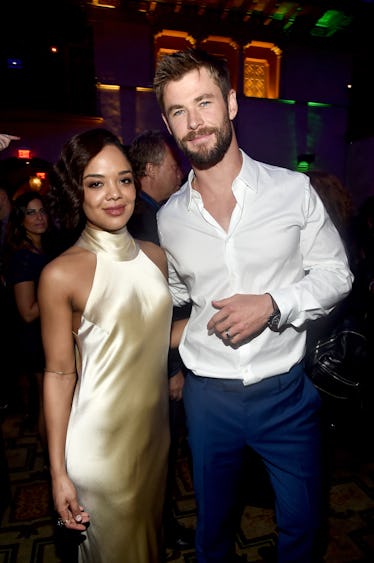 Here Are All The Details You Should Know About The Epic 'Men In Black' Reboot
Alberto E. Rodriguez/Getty Images Entertainment/Getty Images
The Men in Black reboot is shaping up to be a Thor: Ragnarok reunion and to be honest, I'm not mad at it. It was recently announced that Chris Hemsworth is set to star in the spin-off of the classic '90s sci-fi comedy, and now his former Marvel co-star Tessa Thompson will reportedly join him. Talk about a buddy comedy fans can get behind. So, when does the Men In Black reboot premiere? Sony is planning for June 14, 2019.
Original agents Will Smith and Tommy Lee Joins are not expected to return in the revival (at least cameos, please?), but that doesn't mean you should take out those neuralyzer devices to erase all memory of the initial iteration of the beloved franchise. According to The Hollywood Reporter, "Akin to how Jurassic World revived the Jurassic Park film series, Sony's reboot is to feature new characters rather than Agents K and J, portrayed by original trilogy stars Tommy Lee Jones and Will Smith, respectively, and will build on the contemporary sci-fi world in which they operated." It's also reported to be more "global in scope."
There's no concrete word on if this world will integrate other former characters, locations, or Danny Elfman's unforgettable score, but we can only hope that it pays homage to the unique elements that made the first MIB films so iconic.
The Men in Black spinoff was previously slated to team up with 21 Jumpsuit to create a crossover of extraterrestrial comic proportions, though it doesn't seem likely that the confusing, yet potentially hilarious concept will ever see the light of day.
"They're trying to make all the deals, but it's kind of impossible with all the Men in Black stuff," Jonah Hill told the Toronto Sun. "The Jump Street films were so fun to make and the whole joke of them was they were making fun of remakes and sequels and reboots and then now it's become a giant sequel, reboot. It's almost become what we were making fun of and it's hard to maintain that joke when it's so high stakes."
With that idea potentially in Hollywood's rear view mirror, the doors opened up for more MIB shenanigans, with fresh faces and a modern update. Visionary Barry Sonnenfeld famously directed the first three films, but it appears as though Straight Outta Compton's F. Gary Gray could take the reins moving forward. Matt Holloway and Art Marcum, who penned Iron Man, are behind the script.
"It's so rare to get to the end of the script and know you're holding a movie in your hands, but Art and Matt have written a spinoff that somehow is true to the core of the MiB world and yet expands the franchise to a fresh new place," producer Walter F. Parkes has said of what to expect.
Chris Hemsworth is already a bonafide movie star with superhero-sized experience and Tessa Thompson has proven to be a scene-stealing talent through films like Creed and Thor: Ragnarok, so audiences will probably be satisfied with the casting for MIB's resurrection. Tessa spoke with Time last year about her thoughts on the state of female action stars, explaining,
With Atomic Blonde and Wonder Woman and Captain Marvel being introduced and all the wonderful ladies in the Marvel Universe right now, it seems like we're having a moment. But while it's very exciting to play a character that can wield a sword, I think what's important is more female characters that are complex and dynamic and layered. That's happening more in cinema and definitely more on television, which is why it's an honor to work with women like Evan [Rachel Wood] and Thandie [Newton] on Westworld.
Thompson has shown she can master comedic timing — the actress even guest stars on this week's Portlandia season finale — and kick ass at the same time, so we have faith in what she'll bring to the MIB table.
Now, as for who's gonna cover that theme song...