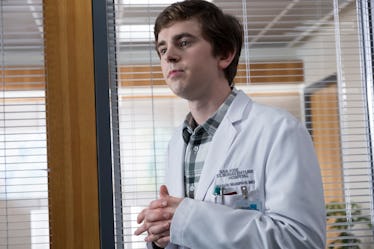 'The Good Doctor' Season 1 Finale Is Almost Here, So Start Getting Ready For Season 2
ABC/Eike Schroter
If you're looking for an optimistic TV show to watch between seasons of intense dramas like The Handmaid's Tale or Game of Thrones, The Good Doctor is a great place to start. ABC's new medical drama follows a young surgeon with autism and savant syndrome as he combats the prejudice of his co-workers and treats patients in the hospital's high-stakes surgical unit. Fans immediately took to the show's hopeful message when it premiered in September, but now that the Season 1 finale is here, fans are desperate to know when we can see more of our favorite doc. So, when does The Good Doctor Season 2 premiere? I can't get enough of this amazing medical show, and I need it to come back ASAP.
ABC renewed The Good Doctor for a second season in early March, which was no surprise considering that it was "the network's most-watched freshman series in 13 years," according to Deadline. There's no official word on how many episodes will be in Season 2, but star Freddie Highmore's contract stipulates that each season can be no more than 18 episodes, so expect another shorter-than-average season on ABC (Season 1 was 18 episodes, but most network shows get a 22 or 24 episode order).
The exact date of The Good Doctor Season 2 premiere is up in the air, as well. The show will likely premiere sometime in September with ABC's other dramas, but no official date has been set. The Season 1 premiere aired on Monday, Sept. 25, 2017, so if ABC keeps the series in the 10 p.m. Monday time slot, it's possible that Season 2 will premiere on Monday, Sept. 24, 2018.
No matter when the second season premieres, it's clear that ABC is throwing their full support behind Highmore and his co-stars. When the network first announced the Season 2 pick-up, ABC Entertainment president Channing Dungey had nothing but great things to say about the boundary-pushing series:
The Good Doctor's message of inclusiveness resonates with our viewers and is a hallmark of what we aim to accomplish here at ABC. This series has quickly joined the zeitgeist and broken records in the competitive television landscape. We are thrilled to announce that Dr. Shaun Murphy will be back for another season.
The Season 2 news is great, but first, fans have to get through the emotional Season 1 finale, "More." The most recent promo for the finale revealed that Shaun's mentor, Dr. Aaron Glassman (Richard Schiff) has "the most aggressive kind of brain cancer," and the news sends Dr. Murphy into a tailspin. In an interview with TV Guide, the cast and crew of The Good Doctor didn't exactly make me feel any better about what's going to happen, especially because Schiff described the situation as "life or death." According to the cast, the news about Dr. Glassman affects everyone, but it hits Shaun especially hard, said Highmore:
It's a personal trauma for Shaun ... We've said all along throughout the year that Shaun is not a superhero. He will make mistakes and at the same time see things that others won't. I think the finale will show two sides of Shaun: the error side of him and also the insightful side.
Luckily for Shaun (and for my tear ducts), creator David Shore assured fans that they shouldn't be too worried that The Good Doctor will suddenly turn into Grey's Anatomy in the finale. "[Aaron's] not going to be dead by the end of the last episode ... I love Richard Schiff and I want to keep him on the show for a while, though. I'll say that," said Shore. That being said, fans should consider Aaron's cancer diagnoses to be a real obstacle for the show's characters. "As I do with all the challenges on the show, I want to treat them seriously. I want them to be real crises for our people and to deal with them," added Shore.
The Good Doctor Season 1 finale airs at 10 p.m. ET Monday, March 26 on ABC.