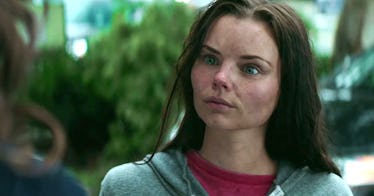 'Siren' Bosses Announce The Premiere Date Of Freeform's Chilling Mermaid Drama
Freeform
MTV may have just ended Teen Wolf, but that doesn't mean you're completely out of dark, supernatural mysteries to get lost in. Freeform brought the cast and creators of its upcoming mermaid drama Siren to New York Comic Con this weekend to introduce the world to the exciting new show. After treating the crowd to the full pilot episode, the team spilled some info on what we can expect from the new show, and also revealed when Siren will be premiering on Freeform. Elite Daily was in the audience to get all the scoop on your new supernatural obsession.
The most important new bit of info is when you will actually be able to see Siren. Showrunner Emily Whitesell and writer Eric Wald announced that the show will premiere on March 29 at 8 p.m. ET on Freeform. Yes, that's kind of a long time for fans to wait — nearly half a year — but the good news is I can confirm after getting to see the first episode that it'll be worth the wait for everyone who loves dark and broody supernatural mystery shows. Check out this sneak peek teaser for Siren below and then I can get into some more specifics about the chilling and engrossing series below.
As you can see from that sneak peek, Siren will be a literal fish-out-of-water story about a mermaid (Eline Powell) who comes ashore and meets a helpful young marine biologist (Alex Roe)... and things get really tricky from there. The pilot introduced all the main characters, like the nearly mute mermaid who seems childlike navigating the above-water world but can actually be deadly when people try to take advantage of her, and marine biologist Ben, who eschews the lavish lifestyle of his high-society family to live on the docks to pursue his passion for aiding and preserving marine wildlife. Other main characters include Ben's girlfriend, a fellow marine biologist named Maddie (Fola Evans-Akingbola) whom his parents don't approve of, and Ben's friend Xander (Ian Verdun), a deep sea fisherman who is actually the first person to encounter a mermaid and tries to convince a skeptical Ben they exist.
All four of the main Siren actors were also present at the New York Comic Con panel, and revealed some of the things we can expect from their creepy, thrilling new series. For one, we'll be seeing a lot more mermaids than just Eline Powell's character. The cast revealed the series will explore the dynamics within a whole colony of mermaids, which are led by a new character played by actress Aylya Marzolf. And it will also include at least one merman, played by Sedale Threatt Jr.
But the series isn't called "Mermaid," it's called Siren, so you're probably wondering how the siren's song will play into the show. The premiere episode actually does feature a very brief instance of Powell's mermaid using her song to enchant Ben, but she gets cut off by someone coming to the door so we don't get a full sense of what she's capable of. Writer Ben Ward teased that the song can be used in a bunch of different ways that the show will explore, as some mermaids will use it to help make connections with others and others will use it as a weapon to fight their enemies.
Ward went on to say the main story arc of the series will often touch on themes of environmentalism, revealing that the reason humans are beginning to encounter mermaids now is due to the increasingly deleterious effects that pollution and climate change has had on the ocean.
You can dive into Siren yourself when it premieres on Freeform on March 29.