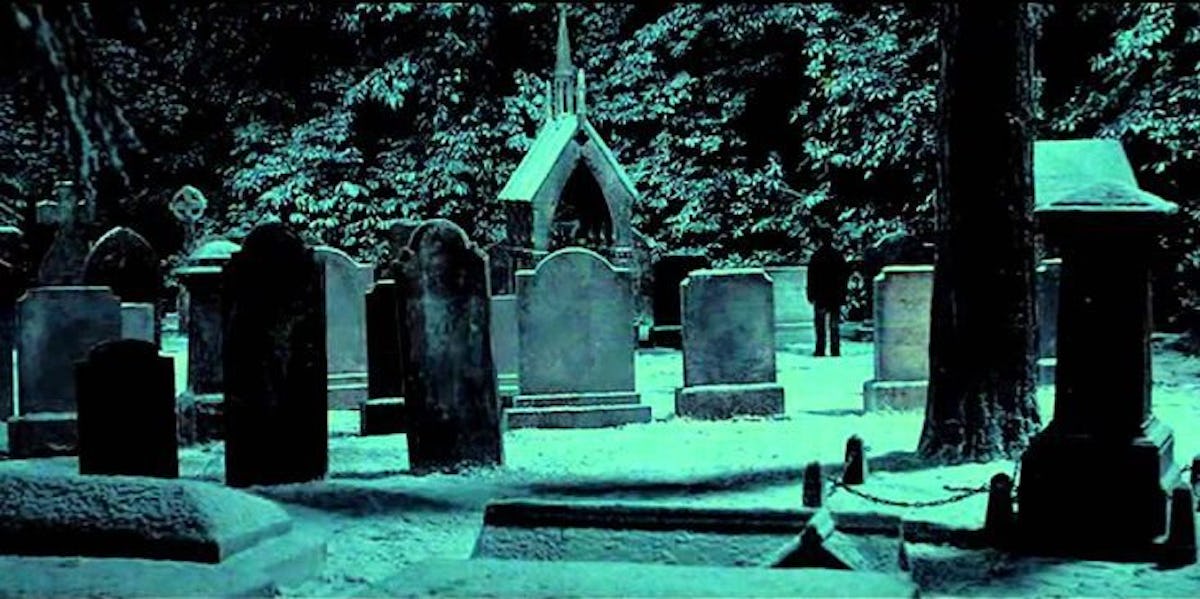 The Schedule For Freeform's 13 Days Of Halloween Is Here & We Can't Wait
Warner Brothers
For some people, the most wonderful time of the year is Christmas, with cozy fires, family visits and presents. For others, it's Fourth of July, with sun, sand, picnics and fireworks. But for a small subset of freaks and geeks, the best holiday, hands down, is the one that comes in the fall, Halloween. Dressing up in costumes, orange and red trees that look like their leaves are aflame, and of course, a black kitty or two to snuggle, while you hang out on the couch and watch Freeform's 13 Days of Halloween schedule of annual scary movies.
Freeform (formerly known as ABC Family) will once again be doing this annual tradition, showing everything from Disney classics like The Sorcerer's Apprentice and Charlie and the Chocolate Factory to modern classics like Alice in Wonderland and Harry Potter and the Deathly Hallows - Part 2*.
(*Note on that last part -- ABC has lost the rights to Harry Potter, which will be going to NBC next year, so this is the last 13 Days of Halloween that will include him.)
Starting Thursday, Oct. 19, and running straight through to Halloween day, this all-day every-day marathon has become a Halloween tradition to kids and adults everywhere, one that's as looked forward to as the Dancing Pumpkin Man gif.
It culminates with a 12 hour marathon of the family classic Hocus Pocus starring Bette Midler and Sarah Jessica Parker, which is this holiday's equivalent to A Christmas Story. So check out the entire schedule below, and make sure your Halloween this year is a happy one. (And don't forget to keep all black cats inside come Halloween night.)
Thursday, Oct. 19
7:00 a.m. Last Man Standing
7:30 a.m. Spooky Buddies
11:00 a.m. The Middle
11:30 a.m. The Middle
12:00 p.m. The Twilight Saga: Breaking Dawn - Part 2
2:35 p.m. The Haunted Mansion
4:40 p.m. The Addams Family
6:45 p.m. Addams Family Values
8:50 p.m. Hocus Pocus
12:00 a.m. ParaNorman
Friday, Oct. 20
7:00 a.m. The Sorcerer's Apprentice
11:00 a.m. The Middle
11:30 a.m. The Middle
12:00 p.m. The Haunted Mansion
2:10 p.m. The Addams Family
4:15 p.m. Addams Family Values
6:20 p.m. Hocus Pocus
8:30 p.m. Sleepy Hollow
12:00 a.m. The Sorcerer's Apprentice
Saturday, Oct. 21
7:00 a.m. Edward Scissorhands
9:30 a.m. Harry Potter and the Deathly Hallows - Part 2
12:30 p.m. Fun Size
2:35 p.m. Matilda
4:40 p.m. Sleepy Hollow
7:10 p.m. The Addams Family
9:15 p.m. Addams Family Values
11:25 p.m. Charlie and the Chocolate Factory
Sunday, Oct. 22
7:00 a.m. Harry Potter and the Deathly Hallows - Part 2
10:05 a.m. Matilda
12:10 p.m. Hocus Pocus
2:20 p.m. Charlie and the Chocolate Factory
5:00 p.m. The Addams Family
7:05 p.m. Addams Family Values
9:15 p.m. Hocus Pocus
11:25 p.m. Alice in Wonderland (2010)
Monday, Oct. 23: Tim Burton Marathon Day
7:00 a.m. Last Man Standing
7:30 a.m. Frankenweenie
11:00 a.m. Edward Scissorhands
1:35 p.m. Alice in Wonderland
4:10 p.m. Dark Shadows
6:50 p.m. Sleepy Hollow
9:20 p.m. The Nightmare Before Christmas
12:00 a.m. Frankenweenie
Tuesday, Oct. 24
7:00 a.m. Edward Scissorhands
11:00 a.m. Fun Size
1:00 p.m. The Haunted Mansion
3:00 p.m. The Nightmare Before Christmas
4:40 p.m. The Addams Family
6:45 p.m. Addams Family Values
8:50 p.m. Hocus Pocus
12:00 a.m. Teen Witch
Wednesday, Oct. 25
7:00 a.m. Last Man Standing
7:30 a.m. Teen Witch
11:30 a.m. Twilight
2:25 p.m. The Addams Family
4:30 p.m. Addams Family Values
6:35 p.m. Hocus Pocus
8:45 p.m. Men in Black
12:00 a.m. Bewitched
Thursday, Oct. 26
7:00 a.m. Last Man Standing: Halloween Special
7:30 a.m. R.L. Stine's Monsterville: Cabinet of Souls
11:00 a.m. The Middle
11:30 a.m. Bewitched
1:30 p.m. The Haunted Mansion
3:35 p.m. Sleepy Hollow
6:05 p.m. Men in Black
8:20 p.m. Dark Shadows
12:00 a.m. The Haunted Mansion
Friday, Oct. 27
7:00 a.m. Dark Shadows
11:00 a.m. The Middle
11:30 a.m. The Middle
12:00 p.m. Sleepy Hollow
2:25 p.m. Hocus Pocus
4:35 p.m. Men in Black
6:50 p.m. The Addams Family
8:55 p.m. Addams Family Values
12:00 a.m. Hocus Pocus
Saturday, Oct. 28
7:00 a.m. Spooky Buddies
9:05 a.m. R.L. Stine's Monsterville: Cabinet of Souls
11:10 a.m. The Addams Family
1:20 a.m. Addams Family Values
3:30 p.m. The Nightmare Before Christmas
5:10 p.m. Hocus Pocus
7:20 p.m. Disney-Pixar's Monsters, Inc.
9:25 p.m. Disney-Pixar's Monsters University
11:55 p.m. ParaNorman
Sunday, Oct. 29
7:00 a.m. R.L. Stine's Monsterville: Cabinet of Souls
9:10 a.m. ParaNorman
11:20 a.m. The Nightmare Before Christmas
1:00 p.m. Hook
4:15 p.m. Disney-Pixar's Toy Story of TERROR!
4:45 p.m. Hocus Pocus
6:55 p.m. Disney-Pixar's Monsters, Inc.
9:00 p.m. Disney-Pixar's Monsters University
11:30 p.m. Disney-Pixar's Toy Story of TERROR!
12:00 a.m. Frankenweenie
Monday, Oct. 30
7:00 a.m. Sleepy Hollow
11:00 a.m. The Middle
11:30 a.m. Dark Shadows
2:00 p.m. Sleepy Hollow
4:30 p.m. The Addams Family
6:40 p.m. Addams Family Values
8:50 p.m. Hocus Pocus
12:00 a.m. Hocus Pocus
Tuesday, Oct. 31: Hocus Pocus Marathon Day
7:00 a.m. Last Man Standing
7:30 a.m. Hocus Pocus
11:00 a.m. The Middle
11:30 a.m. The Middle
12:00 p.m. - 11:00 p.m. Hocus Pocus