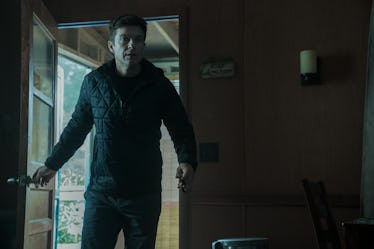 We Finally Know When 'Ozark' Season 2 Will Hit Netflix & I'm So Ready
Jessica Miglio/Netflix
Ozark fans, get ready to head back to the woods of Missouri. Netflix has stayed pretty quiet about the dark thriller's second season, but on Thursday, the platform finally released an epic first teaser and announced the Season 2 premiere date. So, when does Ozark Season 2 hit Netflix? Fans will have to wait two months to be reunited with the Byrde family, but judging by the teaser trailer, Season 2 will be well worth the wait.
Ozark Season 2 premieres on Netflix on August 31, and it seems like the sophomore season will be even more dramatic than the first. This time around, Marty Byrde (Jason Bateman) and his family are gearing up for the winter off season in the Ozarks, but Netflix promises that for this town of criminals, "there is no off season." If anything, the Byrdes have fallen even deeper into the criminal underworld, and now that they're basically the most infamous family in town, they have even more to lose.
At the beginning of the teaser, the Byrde family arrives at a cemetery for a funeral, but it's unclear exactly whose funeral they're attending. Could it be Grace Young, the pastor's wife, who was killed in Season 1?
As the family approaches the gravesite, Wendy's (Laura Linney) voice over begins: "We've done a lot of things. Things we said we would never do." Um, yeah, that's kind of an understatement? You're laundering money for a drug cartel, which is certainly something that most people would never do. "People make choices, Wendy," replies Marty. "Choices have consequences."
It seems like Season 2 will focus heavily on the consequences of these characters' choices, and boy, do the consequences look awful. As Marty and Wendy's voiceovers play, fans see clips of Ruth Langmore (Julia Garner), who the Byrdes brought into their enterprise in Season 1, ominously walking on a dock — and later, that very dock seems to be on fire. The trailer also intercuts shots of a severed deer head, a break-in at Marty's stash house, the remains of a body, a car accident, and plenty of guns. I don't know what all of this means, but in the world of Ozark, I know it can't be good.
The teaser ultimately ends with a gunshot (there are plenty in the show, so this seems particularly apt) and a final exchange between Marty and Wendy. "So that's it? We go back in that house, we go to bed, we wake up in the morning, we kiss the kids?" asks Wendy. "That's exactly what we do," says Marty, ever the pragmatic criminal. Wendy doesn't get spooked easily— she was brave enough to swing around a dead (and huge) opossum in Season 1 — so if she's this freaked out, their situation must be beyond bad.
When fans last left the Ozarks, the Snells had just massacred the cartel's leader Del, ruining the Byrdes' shot at a clean getaway. Now, the Byrdes will be forced into some kind of partnership with the power-hungry, opioid-dealing Snells, a task that proves increasingly difficult after the cartel's attorney Helen Pierce (Janet McTeer) arrives in town. The Byrdes are still working with Ruth, but she has problems of her own: Her manipulative father Cade has been released from prison. Cade has some strong ideas about what Ruth should and shouldn't be doing, so I'm sure his return will be a major roadblock for Marty's criminal enterprise.
During a recent For Your Consideration panel, Bateman teased that in Ozark Season 2, the stakes are even higher:
There is the escalation. It was $8 million in this [past] season that the Byrdes had to try to figure out how to work with. And Marty's got $50 million now that he's got to wash. And we're offseason [in the Ozarks], so we don't have the lake for the income potential there, so he's got to diversify. He talks about a casino in that last scene [in the Season 1 finale], and so we start to try to get that together.
I was fascinated by Marty's suggestion that the Snells open a riverboat casino — what a great setting with so many possibilities — so I'm happy to know that this plan is in the works. Winter may not be the best time to get in the water, but there's definitely something weird going on with that lake, and I'm desperate to figure it out.
Ozark Season 2 hits Netflix on August 31, 2018.