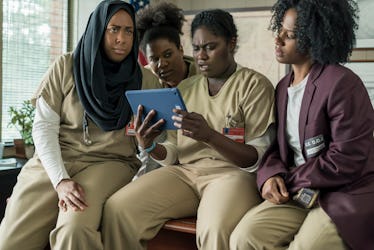 Jenji Kohan Reveals New Details About 'OITNB' Season 6 & I Can't Wait To Binge
Myles Aronowitz/Netflix
After five seasons in Litchfield Penitentiary, Orange Is The New Black is finally changing things up in Season 6. The women will be relocated to a different prison, where they'll likely meet some new faces and have all sorts of new problems. This may sound like a lot, but it's just the beginning of the changes coming to OITNB: There may also be a time jump between the prison riot in Season 5 and the new normal in Season 6. When does Orange Is The New Black Season 6 take place? Creator Jenji Kohan revealed some new details about the upcoming season, and now, I'm desperate to binge-watch this addicting series.
In a recent interview with The New York Times, Kohan dropped a bomb when she revealed that she's open to shaking up the Orange Is The New Black timeline. At the beginning of the series, Piper (Taylor Shilling) was sentenced to 15 months in prison (with a few months added on for committing perjury in Season 2), and five seasons later, she's nowhere close to being done with her prison sentence. According to Kohan, Piper has spent about "10 months" in prison during the duration of the show, which means that OITNB takes place years in the past (Season 5 would take place in 2014, if my math is correct).
In order to bring the series up to present-day 2018 — and to address the current issue of increased incarceration — Kohan teased that a time jump is more than possible:
Theoretically, we're operating in the past. But we want to address current events and feelings, so we may abandon the timeline. Piper will still have served the same amount of time, but we will be in the present day.
Kohan didn't confirm that Season 6 will officially "abandon the timeline," but it definitely seems like it might. OITNB has always been strongest when it comments upon current events (take Poussey's death and the conversation around police brutality, for example), so it seems kind of irresponsible for the show not to tackle the issue of prison reform. From where I'm sitting, shifting the timeline so that Season 6 takes place in 2018 is an easy decision if it means creating a powerful and emotional season of television.
Season 5 left off on quite a few cliffhangers, so no matter when Season 6 takes place, there will be plenty of material to work with. After the riot ended in the season finale, the Litchfield inmates were split up and taken on buses to maximum-security prison, but it's unclear if the women are all being taken to the same prison or if they will spend Season 6 apart.
Judging by the new opening credits, this prison (or prisons) will be even more intense than Litchfield: The shower area has handcuffs hanging from the walls, bunk beds are stacked up to the ceiling to ensure maximum capacity, and the pay phones have been replaced with cells.
If Season 6 does shift the timeline into the present-day, it seems likely that the series will come to an end shortly after. As of now, Netflix has committed to making seven seasons of the show, and Kohan suggested to the Times that Season 7 will be its last:
I haven't made a final decision yet, but I'm leaning toward ending it after seven — although the nature of the show is one that can go on and on because you can bring in new people.
I love OITNB, so I'll be sad to see it go, but at the same time, seven seasons is a lot. At a certain point, you have to let the show end, right?
When that time comes, Kohan promises that she has an end in mind. "I think I do. And I will not share it," she said. Come on, can we just get a small hint?
Orange Is The New Black Season 6 hits Netflix on Friday, July 27.