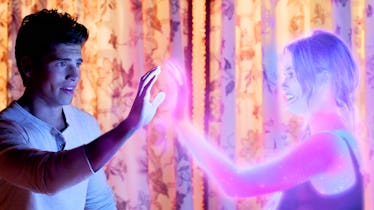 When Does 'Marvel's Runaways' Season 2 Air? Fans Were Left Hanging After Season 1
Hulu
The first season of Marvel's Runaways ended with a question mark (actually, a lot of question marks) on Tuesday, but thankfully Hulu has just announced that the teen superhero show is coming back for a second season, which will fans the answers we have been waiting for. You might be wondering when Season 2 of Marvel's Runaways will premiere and what we can expect from the upcoming run of episodes, so let's talk about all the new details.
The second season of Marvel's Runaways should be a lot more action-packed than the first, considering that a big chunk of Season 1 was devoted to the kids discovering their superpowers, and it will also be a bit longer than the first season. Season 1 of Runaways just wrapped on Tuesday with its tenth episode serving as its season finale, but Hulu has ordered 13 episodes for the show's second season. The increased episode order is an encouraging sign for fans of the show, signaling that it must be performing well.
Hulu has not revealed when it is planning on premiering Season 2 of Marvel's Runaways, but it will likely begin streaming before the end of 2018. The show debuted on Hulu back in November, so if Runaways wants to keep to a traditional yearly release schedule, fans can expect the second season to drop around that same time this year. And the new season will have a lot of questions to answer. The Season 1 finale left viewers with more questions than answers, ending the story on a cliffhanger where we still have no idea what is actually going on in the main plot. The first season felt like a lot of buildup to one big reveal... except that reveal never happened.
The Runaways Season 1 finale saw the kids finally coming face to face against their parents, and showing off their superpowers to their parents for the first time. Throughout the season, Alex, Nico, Karolina, Gert, Chase, and Molly were investigating their parents' mysterious, sacrificial cult-like organization Pride, trying to uncover what their big plan was. It became clear towards the end of the season that the only person who really knows what is going on is Jonah, the seemingly metaphysical man whom Pride revived and is revealed to be Karolina's biological father. We know that Jonah is trying to get something major out of a big hole he's been digging — and as the Yorkes found out, that something is alive — but the season ended before we actually learn what that thing is.
The finale episode also included the scene from which the show's title is drawn from, when the kids learn that their parents have reported them for abducting Molly and framed them for the murder of Destiny, they are force to... well, run away. So, now they are officially the Runaways, I guess. Showrunners Josh Schwartz and Stephanie Savage teased a bit about what fans can expect from Season 2 of Runaways in a recent interview with Entertainment Weekly, saying that the hostel hideout that is central to the source comic book series will be a major part of the next season, as we see the heroes living together in hiding now that they are fugitives. They also said that Pride will be turning on Jonah, and that the thing at the bottom of that hole will reveal a lot of information about Jonah. But the main tension of the show will continue to be between the kids and their parents, with Schwartz noting that Season 2 will largely be about the kids noticing some troubling qualities in themselves that remind them of their parents:
Our tagline for Season 2 is: Every kid turns into their parents.
Expect Season 2 of Marvel's Runaways to begin streaming on Hulu later in 2018.