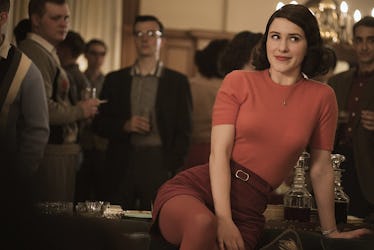 Here's Everything We Know About 'Marvelous Mrs. Maisel' Season 2 – UPDATE
Amazon Studios
This year, The Marvelous Mrs. Maisel has done for Amazon what The Handmaid's Tale did for Hulu in 2017. The quick-witted, smart series about a 1950s Jewish housewife entering the world of stand-up comedy drew in universal acclaim with its first season, even winning Best TV Series — Musical or Comedy at the 2018 Golden Globes. With 14 total Emmy nominations, The Marvelous Mrs. Maisel has at least two more seasons in store for fans. However, once you've gotten your first dose of Midge, it's hard to stay away, so when does Marvelous Mrs. Maisel Season 2 premiere? We may have to wait a few more months before Midge and Susie hit the New York comedy circuit again.
UPDATE: 'The Marvelous Mrs. Maisel' Season 2 will premiere on Dec. 5.
EARLIER: After quietly launching its full first season on Amazon in November 2017, The Marvelous Mrs. Maisel became a prime streaming option over the holiday season. Gilmore Girls fans praised the universe for delivering another feisty heroine and eccentric world Amy Sherman-Palladino created, but unlike Gilmore Girls, Marvelous Mrs. Maisel swept up critics' love in a way that previous Sherman-Palladino projects had never garnered. Following the show's original two-season order, Amazon renewed the series for a third season in May 2018, ensuring that we have at least another two years of watching Midge turn New York's perceptions of comedy upside down. Of course, there's also even more of a chance of seeing Sherman-Palladino continue rocking her signature top hats at award ceremonies.
No official premiere date for Season 2 has been announced yet. However, production for the season reportedly began in March, which possibly allows for new episodes to launch around the same time of year as Season 1 did. I'll gladly take my Thanksgiving turkey with a side of new Maisel this year if that's the case. But until we hear any confirmation about a release date, we likely have the cast's pre-Emmys press tour to look forward to this summer. Lead actress Rachel Brosnahan and supporting cast members Alex Borstein and Tony Shalhoub were nominated for their Season 1 performances, while the series scored a spot in the Outstanding Comedy category.
Fans also have the option of brainstorming Season 2 plotlines while they wait for new Marvelous Mrs. Maisel episodes. Sherman-Palladino hinted to the Hollywood Reporter that Midge and Borstein's Susie will hit the road next season and tour comedy clubs outside of New York, while Brosnahan has already confirmed that Season 2 will explore Midge's attempts to balance life as a mother, career woman, and aspiring comic. She told IndieWire:
By the time we leave her at the end of Season 1, she's a working woman with a job, and she's also trying her hand at stand-up comedy. And those three worlds, they don't work together very well. So I look forward to watching her struggle to maintain those three different identities simultaneously.
In the Season 1 finale, Midge had officially embraced her identity as "Mrs. Maisel" in a comedy routine, setting herself and manager Susie up for a new wave of success. Meanwhile, her ex-husband Joel witnessed her act, simultaneously becoming heartbroken and astounded by her talent. The two also hooked up toward the end of the season, hinting that the blurry status of their relationship will be a key topic in Season 2.
The show also announced the addition of Chuck star Zachary Levi to the cast in Season 2. Levi will play a doctor who suddenly becomes involved in Midge's family's world. Is he a new love interest facing against Joel in winning over Midge or just a neurotic doc convinced that Shalhoub's Abe is slowly dying? Any further details about the character are staying under wraps.
I'm eager for the mystery about The Marvelous Mrs. Maisel's Season 2 release and storyline to be over, but good things come to those who wait. Until then, I'll just play the powerful, triumphant closing scene of Season 1 on a loop. Where are my black gloves and pearls?